Our blow-by-blow coverage of EPT Prague kicks off on Monday 10th December. To scratch your poker itch until then, here are five incredible hands from EPT Pragues gone by.
---
There are countless reasons we love heading to Prague every year. You've got Christmas markets, snow, beautiful architecture, amazing food, and great cheap beer, just to name a few.
But of course, as this is your beloved PokerStars Blog, there's also poker action to get excited for. Over the years we've seen some classic hands play out at EPT Prague, so here are five to whet your appetites for the upcoming feast.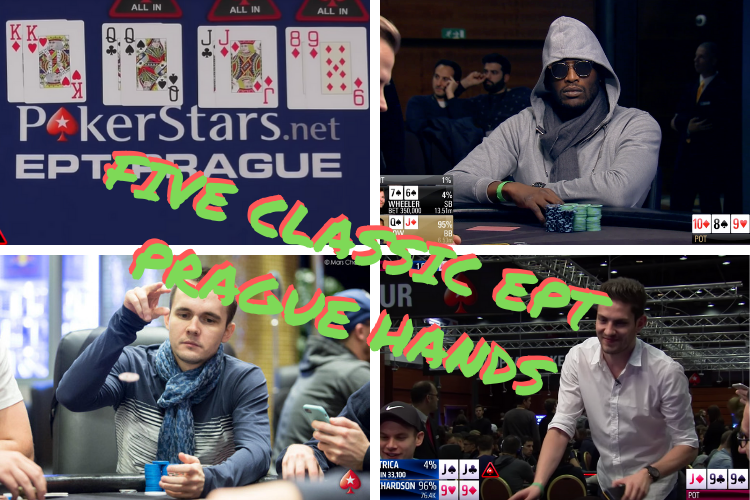 ---
THE HOLLYWOOD SCREENWRITERS HAVE COME TO PRAGUE
It's a great feeling to get all-in deep in a Main Event with a pair, and see that your opponent has a smaller one. Pre-flop, there are no flip sweats. Just two cards to avoid.
But…errr…yeah, sometimes this happens.
Cosmin Petrica was all-in with pocket jacks versus Benjamin Richardson's pocket nines, and as James Hartigan says, the Hollywood screenwriters came to town.
---
BRUTAL FOR YOUNG BADZIAKOUSKI
Last night on his first high roller Twitch stream for PokerStars, Igor Kurganov was asked who his top five tournament players in the world right now are. There were only two names he could give for certain: One was Stephen Chidwick. The other?
Mikita Badziakouski.
But before Badziakouski–aka Fish2013 on PokerStars–was a household name in the poker world, crushing six-figure buy-in tournaments around the globe, he was plying his trade online and in smaller buy-in live events.
Back in 2012, Badziakouski was grinding the EPT Prague Main Event, only to suffer an ice-cold cooler at the hands of Martin Hanowski. There's no commentary on this one, but the hand speaks for itself.
Check it out.
---
PLAYING LIKE A CHAMP
Jasper Meijer van Putten played a great tournament on his way to victory in the EPT Prague Main Event 2016. It was hands like this one that led him to the title.
Meijer van Putten flops the nuts, while Marton Czuczor flopped top and bottom pair. But when the board ran out for a chop pot, it took some heart to take it down.
Take a look.
---
THE RARELY SEEN TRIPLE K.O.
Speaking as poker reporters who collectively have witnessed thousands of hands, you truly don't see this very often. Especially not in a final two table situation in the EPT Prague Main Event.
A four-way all-in, and triple elimination!
We won't spoil it for you. Just watch it.
---
STRAIGHT UP COOLER
Two years ago when Kalidou Sow took down the PokerStars Championship Prague Main Event (the same as an EPT), he did so by defeating Jason Wheeler heads-up.
Prior to the duel battle, there was an epic hand three-handed between the two which gave Sow the chips he needed to battle for the title.
---
PokerStars Blog coverage from EPT Prague 2018 kicks off on Monday 10th December and runs until Tuesday 18th December.
Here are the key dates:
EPT Super High Roller (unlimited re-entry): December 10-12 – €50,000
EPT Main Event (single re-entry): December 12-18 – €5,300
EPT High Roller (single re-entry): December 16-18 – €10,300
The full schedule for EPT Prague is available here.
To make sure you don't miss anything, follow us on Twitter: @PokerStarsBlog.
<hr
Ready to sign up for PokerStars? Click here to get an account.
---
Back to Top