The final flagship event of both EPT Prague and the PokerStars Live calendar kicked off today, with Day 1 of the €10,300 High Roller.
The Main Event was down to just a few of tables when play got going, so the High Rollers dominated the room with 248 total entries (including 57 re-entries) by the time the chips were bagged and tagged. That makes this event on track to be bigger than last year's turnout of 256, which Danny Tang outlasted to win €381,000. Registration is open until the start of play tomorrow though, so that number will no doubt swell further.
Tang is still in and putting up a good title defence with 102,500, although it could have been much better for him. "What a story!" he said to us after bagging his chips. "The defending champ could have been chip leader!"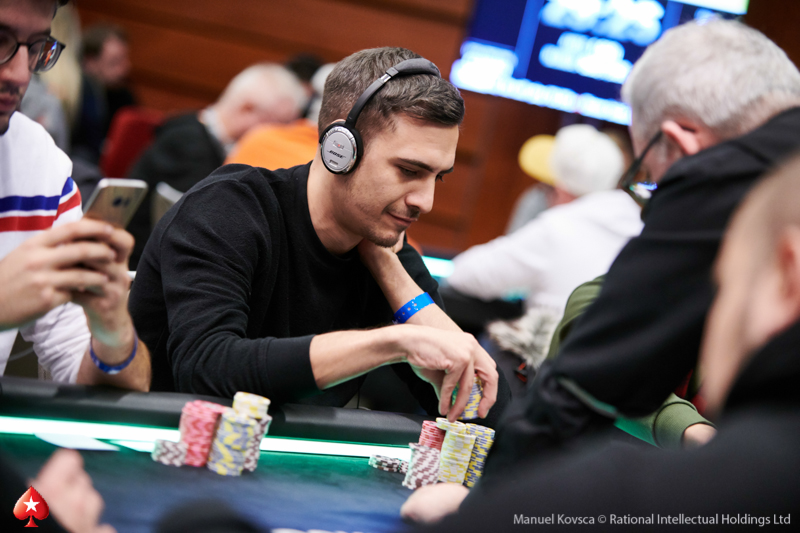 Speranza'll sleep well
Instead it was Italy's Gianluca Speranza who ended the night on top. He'll have 365,500 at the start of the day tomorrow, having started with just 50,000.
Joining Speranza at the top of the counts will be Bahram Chobineh with 352,000, Maxi Lehmanski with 330,500, and Jan Nader Zadeh with 290,000. Other players who ended well include Sam Grafton with 259,500, and Pavel Plesuv with 279,000. Charlie Carrel was the first player to bust today, but his second bullet worked out better and he bagged up 70,000.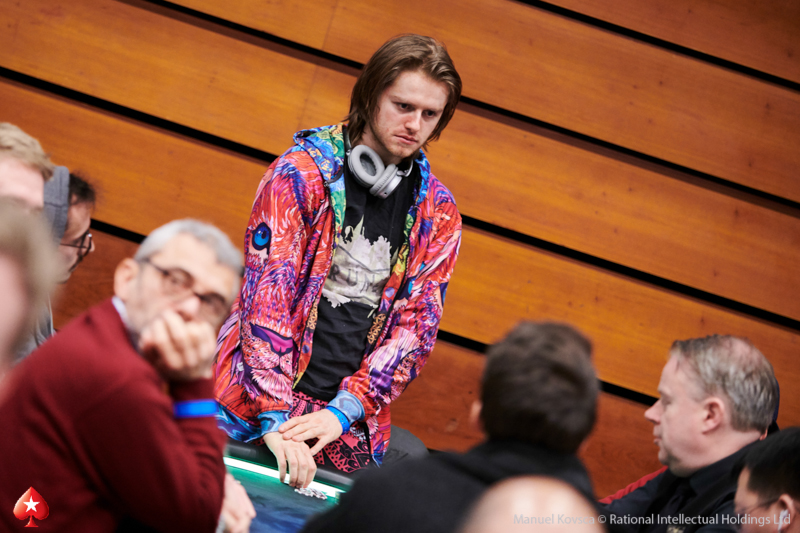 The Carrel staredown
We could go on and pick out more counts of notable names for you, but when you're reporting on a field full of poker stars, that seems silly.
Instead, why not just take a look through all of the end-of-night counts right here?
If your favourite player isn't on there, don't fret; there's a chance they'll be back tomorrow with a re-entry.
We'll also be back here at 12:30pm tomorrow when Day 2 gets going. From there, they'll play ten more 60-minute levels, or down to a final table. Whatever comes first.
Either way, we'll be watching every step of the way. See you then. –JS
---
DAY 1 COVERAGE ARCHIVE

• ENTRIES: 108 of 248, with 57 re-entries (so far) | MAIN EVENT COVERAGE
• LATE REGISTRATION OPEN UNTIL THE START OF DAY 2
• CHIP COUNTS
• ALL EPT PRAGUE INFO | TOURNAMENT SCHEDULE
• DOWNLOAD POKERSTARS | Follow @PokerStarsBlog on Twitter
---
12:50am: Day 1 concludes
Day 1 is done, and it looks like Gianluca Speranza might have pulled ahead at the finish. Stay tuned — a full recap of an exciting day of poker is coming shortly. –MH
12:45am: Three more hands
Level 10 – Blinds 800/1,600 (BB ante 1,600)
Just three more hands to play per table, says the tournament director. We're scouting for an end-of-night chip leader, and it looks like Bahram Chobineh is a serious contender with more than 300,000 right now. We'll see how it all winds up. –MH
12:40am: Zadeh knocks out Hajiyev near the end
Level 10 – Blinds 800/1,600 (BB ante 1,600)
Ramin Hajiyev used several time bank cards, then spent the last of his chips to call a big river all-in by his opponent Jan Nader Zadeh.
The board was 2♣ 7♦ 3♣ 9♥ K♠ , and Zadeh's all-in bet of 120,000 was a lot more than what was in the middle, and a little bit more than what Hajiyev had behind. When Zadeh heard the call, he showed 7♥ 7♣ for a set of sevens, and Hajiyev frustratingly showed his 10♣ 9♣ before departing.
Zadeh is stacking about 260,000 now. –MH
12:35am: Thorel busts Bujtas, Paris busts Dimov
Level 10 – Blinds 800/1,600 (BB ante 1,600)
We arrived at the table to see Jean-Noel Thorel calling Laszlo Bujtas's shove. He had A♠ A♣ against Bujtas' 8♥ 8♠ , and the aces held up.
"Rebuy!" yelled Bujtas, as he jogged off to the buy-in desk. He was back in his new seat before this next hand finished.
Ognyan Dimov was under the gun and had a stack of 22,200. Then Thorel folded out of turn from the UTG+1 seat, prompting Bryan Paris to almost act after him.
"Wait! Wait!" said Dimov, showing he still had cards. He then sized up what he wanted to do, and shoved.
Paris snap-shoved for his 29,000 behind him. Everyone else folded, and it was 2♥ 2♣ for Dimov versus Paris' 7♦ 7♣ . The sevens held.
Thorel — down to less than 3,000 not that long ago — now has 108,000, while Paris has around 55,000. –JS
12:25am: Beresford runs KK into AA, exits thereafter
Level 10 – Blinds 800/1,600 (BB ante 1,600)
Simon Pedersen and Conor Beresford just played a big pot that ended with Beresford all in before the flop and saying "oh no!" when Pedersen flipped his cards.
It was the classic nightmare scenario, fittingly coming after midnight — K♠ K♦ for Beresford, and A♥ A♠ for Pedersen.
The 10♣ 5♦ Q♦ 5♠ 9♠ board sealed it for Beresford, and despite the tough hit he wished the table good luck and even threw in a "happy holidays."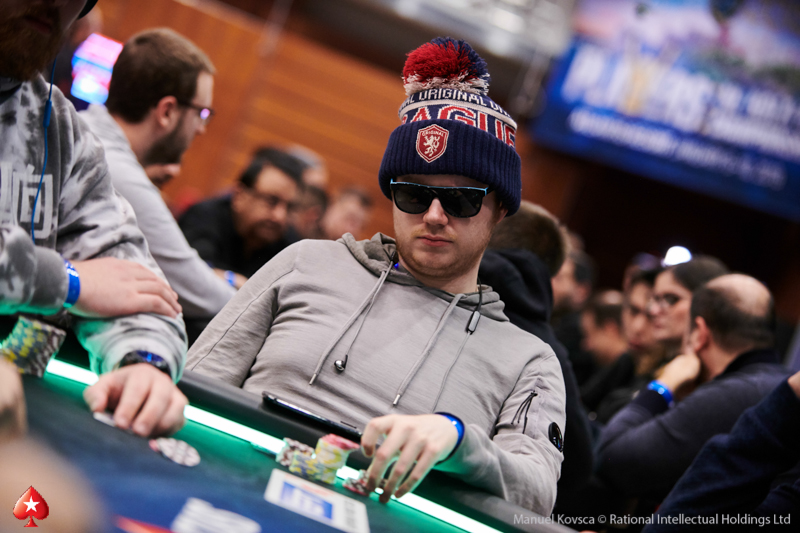 Bad news for Beresford
Pedersen has about 190,000 now with about a half-hour to go in the night. –MH
12:15am: Ilani ousts Mandic
Level 10 – Blinds 800/1,600 (BB ante 1,600)
I caught up with preflop raising happening between Ran Ilani and Goran Mandic at a point where Ilani had 27,500 sitting in front of him and Mandic had reraised one last time all in for 71,500. Ilani thought long enough to dip into his time bank cards, then finally called, showing J♠ 10♠ versus Mandic's A♥ K♦ .
The 10♦ 7♦ 5♣ flop paired Ilani's ten, then the Q♠ turn provided a few more outs for Mandic. But the river was the 3♠ and Mandic is out. Ilani has about 185,000 now. –MH
12:10am: Danchev catapults upward after hitting draw
Level 10 – Blinds 800/1,600 (BB ante 1,600)
A big three-way all-in just happened on a 3♦ 8♣ 2♣ flop involving (in order of their positions) Dmitar Danchev, Steve O'Dwyer, and Danny Tang. Piecing the action together after the fact, it sounded like Danchev checked, O'Dwyer bet, Tang called, then Danchev check-raised all in and both O'Dwyer (who had everyone well covered) and Tang called that as well.
Danchev turned over 5♣ 4♣ to show he'd flopped both an open-ender and a flush draw, O'Dwyer showed K♦ 8♦ for top pair of eights, and Tang had A♣ A♠ for an overpair to the board. The 9♥ turn meant Tang was still in front, but the 6♣ came on the river to make Danchev's flush and award him the huge pot.
Danchev is up around 245,000 now, O'Dwyer 70,000, and Tang about 52,000. –MH
12:05am: Firaldo's acting serious
Level 10 – Blinds 800/1,600 (BB ante 1,600)
[3D]A♠ 6♠ . 10,000 (Patrik Antonius – big blind). Call (Niall Farrell – button).
That's all I'd jotted down when Sam Grafton came over to join me to watch the hand.
"Was it three-bet pre?" Grafton asked. I didn't know for sure, but the size of the pot, and the positions, make it a safe guess to say that Farrell opened the button, and Antonius raised from the big blind. Farrell called.
The turn was the J♣ with action on Antonius.
"Firaldo's acting serious, isn't he?" said Grafton.
He certainly was, especially after Antonius continued for 17,000. Farrell used a time bank before calling.
The 7♠ completed the board, and now it was Antonius's turn to take his time. He used a time bank, and with four seconds left on the clock he checked.
Farrell shoved.
Antonius had 46,000 behind, and it didn't take him too long to fold. Farrell is up to 115,000 now, while Grafton headed back for his next hand. –JS
11:55: Last level begins
Level 10 – Blinds 800/1,600 (BB ante 1,600)
Just an hour of poker to go, then out come the bags. –MH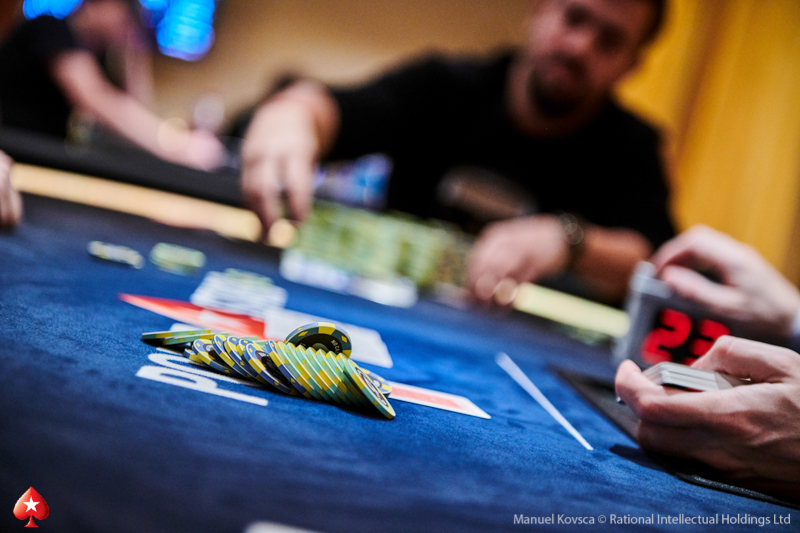 One level to go
11:50pm: 239 entries (so far)
Level 9 – Blinds 600/1,200 (BB ante 1,200)
They are up to 239 entries now, by the way, according to the big board. That means the total field (and the prize pool) is nearing the total for last year's €5K High Roller in Prague of 256 entries.
Remember late registration is open through tonight's last level (about to start) and up until the beginning of Day 2 tomorrow. –MH
11:48pm: Ladouceur wins a few with a wheel
Level 9 – Blinds 600/1,200 (BB ante 1,200)
Following a Kayhan Mokri Roshanfekr button raise to 2,700, Marc-Andre Ladouceur defended the big blind with a call and the flop came 4♥ 2♥ A♥ . Both checked, and they checked again after the 3♠ turn.
The river was the 8♠ , and this time Ladouceur bet 5,000 and Roshanfekr called right away. Ladouceur tabled J♦ 5♥ for a wheel, and Roshanfekr mucked.
Ladouceur has about 70,000, Roshanfekr just around 100,000 with a couple of minutes to go in Level 9. –MH
11:40pm: Dattani dusted
Level 9 – Blinds 600/1,200 (BB ante 1,200)
After our last post (see below), things didn't go any better for Michel Dattani.
We just saw him all-in for his last 18,000 with A♦ Q♣ , and he was up against Daniyar Aubakirov's K♣ K♦ .
Aubakirov would end up with a saunter of cowboys (aka quad kings) after the K♥ 8♦ 2♣ K♦ 6♥ board was done, and Dattani made his exit.
Aubakirov's on 73,000 now. –JS
11:35pm: Dattani vs Luo (with a sprinkle of Silver)
Level 9 – Blinds 600/1,200 (BB ante 1,200)
Max Silver might very well be the chip leader now, with a stack or 270,000. He was only involved in this hand briefly though, kicking things off with a 2,600 hijack open which Michel Dattani then three-bet to 8,000 on the button. Xixiang Luo and Silver both called.
They went to a 3♥ 5♦ 7♣ flop and it checked to Dattani. He continued for 8,500, and Luo was his only caller to the 9♦ turn. Luo checked once more.
Dattani continued his aggression for 10,200, and Luo began rearranging his chips. He pulled all of his 1K chips off his 5K chips, then grouped some together to form a raise to 24,000. That was too much for Dattani who let it go.
Luo is on 120,000 now, while Dattani dips to 36,000. –JS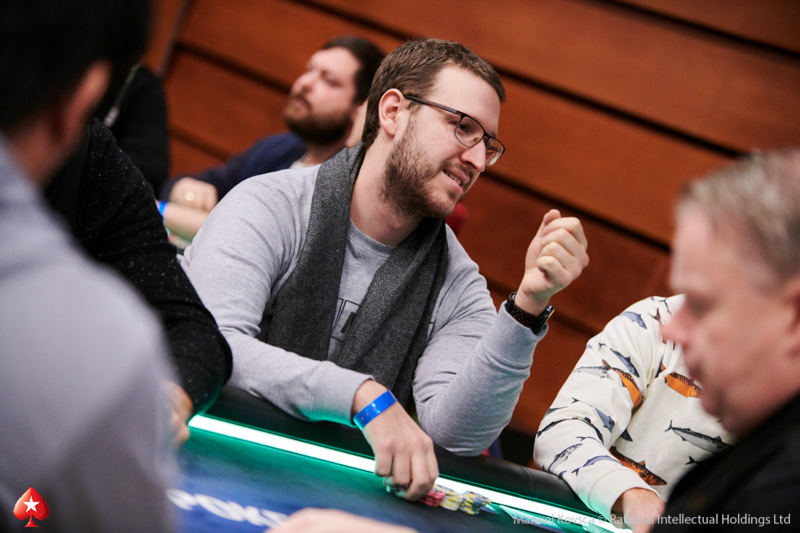 Good night so far for Silver
11:25pm: Rough going for Thorel
Level 9 – Blinds 600/1,200 (BB ante 1,200)
Jean-Noel Thorel has had a rough go of it here in Level 9.
First he got tangled up in a hand with Ognyan Dimov in a hand that saw Thorel lead from the blinds at a 6♦ 3♣ 10♣ flop for 25,000 only to see Dimov jam over the top, forcing Thorel to fold. Dimov chipped up around 105,000 on that one.
Soon after Thorel got into another one with his fellow Frenchman Corentin Ropert in which the latter was all in on the turn against Thorel with the board showing 3♦ 3♣ 9♥ 2♦ . Neither had hit that board, with Thorel holding Q♣ 8♣ and Ropert A♥ 8♥ . The K♣ river missed both, too, and Ropert ended up doubling to 85,000 while Thorel was suddenly down to just a couple of big blinds.
Chips for Corentin
Thorel got a triple-up right after that to get back over 10,000, but he'll need to do a lot more to get back to where he was earlier today. –MH
11:15pm: Antonius pays off Plesuv
Level 9 – Blinds 600/1,200 (BB ante 1,200)
Patrik Antonius entered this event after the dinner break, and has a stack of 65,000 despite this loss to Pavel Plesuv.
Plesuv made it 2,700 from the cutoff and Antonius defended his big blind. The two checked the 2♥ J♦ Q♦ flop, and did the same on the K♣ turn. When the A♠ river there was now four to a straight out there, and Antonius checked a final time.
Plesuv put out a bet of 5,300 which was called quickly. Plesuv showed K♥ J♥ for two pair, and Antonius mucked it.
Plesuv is up to 210,000 now. –JS
11:05pm: Pardo out in front
Level 9 – Blinds 600/1,200 (BB ante 1,200)
A quick scan of the stacks shows that Juan Pardo is the current chip leader with 257,000.
The only other player with more than 200,000 currently is Bahram Chobineh with 212,000. –JS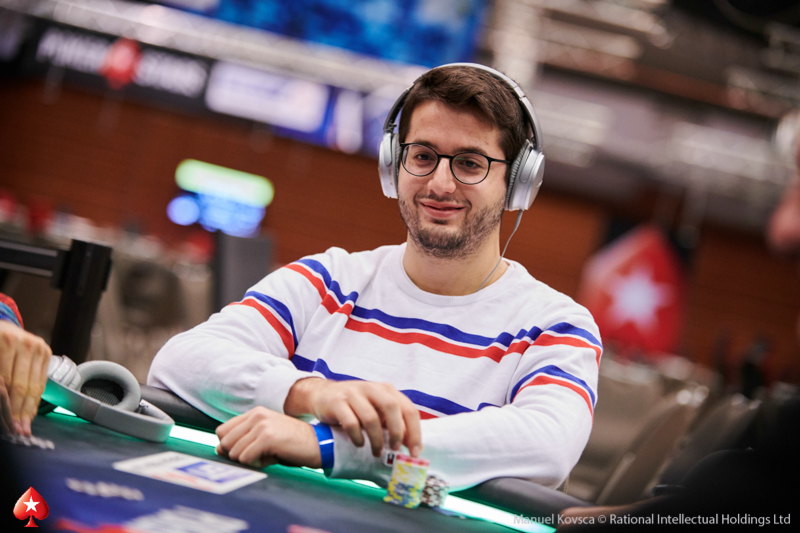 Pardo on the prowl
11pm: Reeves leaves, Greenwood re-enters
Level 9 – Blinds 600/1,200 (BB ante 1,200)
There are two players named Lucas in the field: Reeves and Greenwood.
Lucas Reeves just busted though. He got his last 40,000 or so in the middle with 7♣ 7♠ versus Maxi Lehmanski's A♦ A♣ , and found no help on the 10♣ K♠ 2♣ A♥ 3♣ board.
Lucas Greenwood had also busted, but he's just bought back in and taken a new seat with 50,000. –JS
10:55pm: Tang defending from the blinds, trying to defend title
Level 9 – Blinds 600/1,200 (BB ante 1,200)
Danny Tang won this same event a year ago, and he's been battling all day to begin the quest to defend his title. In the last hand of the previous level I saw him play an interesting hand versus against one of the big stacks in the room belonging to Bahram Chobineh.
Picking things up on the flop with Chobineh in late position and Tang in the blinds (where it appeared he must've defended either with a call or reraise), the flop came Q♣ 6♣ 2♠ and Tang check-called a bet of 3,500 from Chobineh. That put the pot almost at 15,000. The turn was the 6♦ , and again Tang check-called, this time for 6,300.
With more than 27,000 in the middle the river was the Q♦ , putting a second pair on the board. Tang led with a bet this time, a tiny, irresistible-to-call one for just 1,900. Chobineh did call, and Tang turned over Q♠ J♥ for queens full of jacks. Chobineh mucked, and Tang took the pot.
Tang has 90,000 to begin the new level, while Chobineh is still well supplied with chips with 208,000. –MH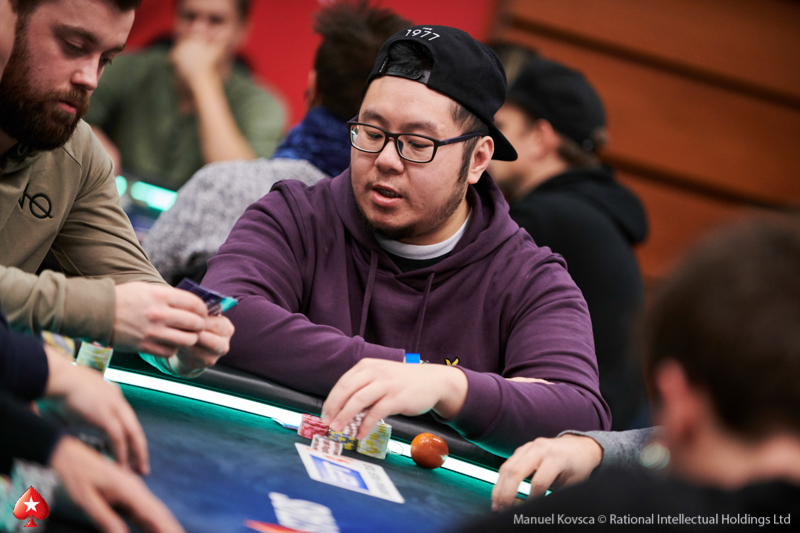 2017 PokerStars Championship Prague High Roller champion Danny Tang
10:30pm: Break time
Last one of the night. Smoke 'em if you got 'em. –MH
10:25pm: A tale of two Greenwoods
Level 8 – Blinds 500/1,000 (BB ante 800)
On one table, Sam Greenwood was tangling in a pot versus Ole Schemion. The flop —3♦ 3♣ Q♣ — was checked by Greenwood and Schemion led for 1,800. Call.
That took them to the 8♣ turn, on which Greenwood led for 3,000 and got a fold.
On the adjacent table was Sam's twin Luc, and he was playing a pot against Marcus Durnegger. The latter checked the 9♠ 3♣ 2♠ flop and then called a 6,000 bet, bringing the K♥ turn. He then check-called 16,000, and the 9♥ completed the board. Durnegger checked a final time, but this time Luc checked back.
Durnegger tabled 9♦ 10♦ for trips, and Greenwood mucked to drop to 50,000. Durnegger is up to 115,000. –JS
10:20pm: Bartos collects a few from Thorel
Level 8 – Blinds 500/1,000 (BB ante 1,000)
Action folded to Jean-Noel Thorel on the button following a 10♦ 7♦ Q♥ flop andhe bet 3,500. Thorel has been active as usual during the first eight levels today, accumulating the biggest stack at his table by mid-afternoon and continuing to lead there most of the evening.
From the blinds Gergely Bartos called, the third player folded, and the turn brought the J♣ . Bartos checked, Thorel fired again for 8,000, and Bartos stuck around once more. Both then checked through the 10♣ river.
Bartos showed his A♠ J♣ first, revealing he'd flopped a straight draw then hit runner-runner trips, and Thorel mucked. Thorel still has 132,000 though, while Bartos inches up to 82,000 with five minutes to go in the level. –MH
10:10pm: Lot of action
Level 8 – Blinds 500/1,000 (BB ante 800)
Here's the latest from out most recent stroll:
Kalidou Sow was all-in for his last 22,100 on a 2♦ 6♦ 5♥ K♦ 3♣ board, with 28,000 in the middle already. Fahredin Mustafov was his only opponent, and he used a time bank card before making the call. Sow showed K♣ 2♠ for two pair, and Mustafov mucked to drop to 200,000. Sow is up to 72,200.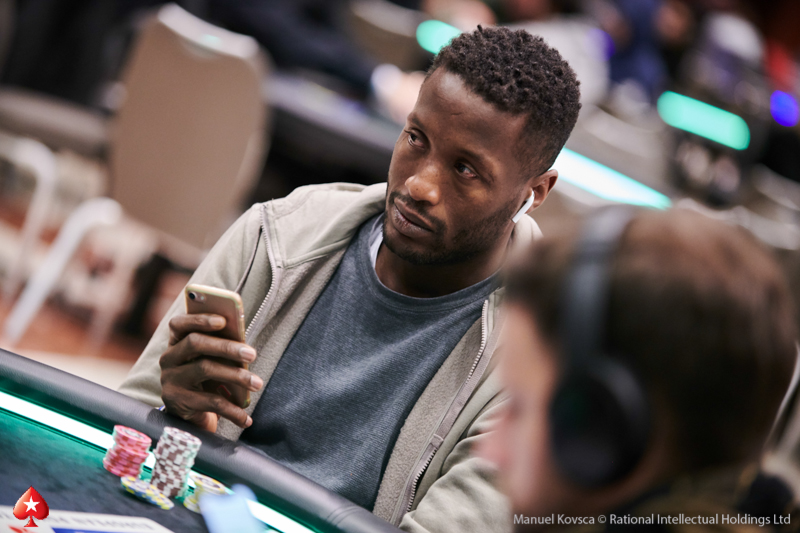 Kalidou-ing it
"Good luck guys," said Will Kassouf, as he made his exit. The 2016 champion in this event is out, but still has the option to re-enter.
Simon Pedersen was putting the pressure on Lucas Reeves. The board read 10♦ J♥ 5♦ 6♠ 3♦ and Reeves had checked it, before Pedersen put him all-in. Reeves had 41,000 behind and was giving it a lot of though, but ultimately folded. "Show me a bluff," he pleaded afterwards. "Show me the ace-king. Or maybe you just had the jacks." Pedersen is up to 147,000 now. –JS
10pm: Calm down, calm down
Level 8 – Blinds 500/1,000 (BB ante 1,000)
"All in and call!" Thrilling! No, wait… not thrilling.
The hand had to end that way. The board showed Q♦ 10♥ K♠ 8♥ J♠ , Anton Wigg had A♠ 3♠ , and Simone Speranza had A♥ Q♠ . Broadway for everybody!
I mainly shared that story with you to let you know Speranza has 88,000 now, while Wigg — fresh from his 35th-place showing in the Main Event — is on 65,000. –MH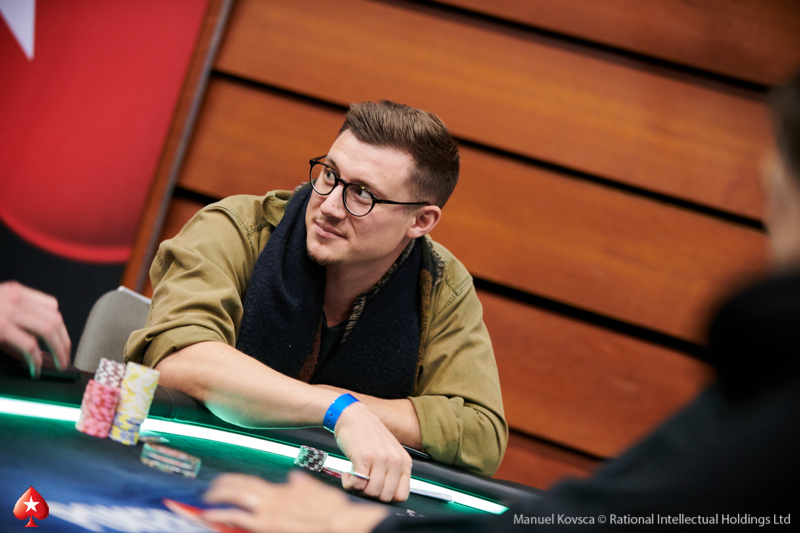 Anton Wigg in action
9:50pm: Guo gaining
Level 8 – Blinds 500/1,000 (BB ante 800)
Dong Guo is a player we've become very familiar with through our trips to Macau and other poker stops in Asia. He's also a regular at EPTs though, so it's no surprise seeing him battle in this €10K.
Guo just opened to 2,500 on the button with no action in front of him. Maxim Lykov was in the small blind and three-bet it up to 6,500, which Guo called.
He'd then call a 6,500 c-bet after the J♥ 3♥ 4♦ flop, and when the 4♣ turn hit Lykov fired again for 8,500.
Guo jammed for 30,600, and after Lykov got a count he let it go. He's now on 81,000 while Guo had 55,000. –JS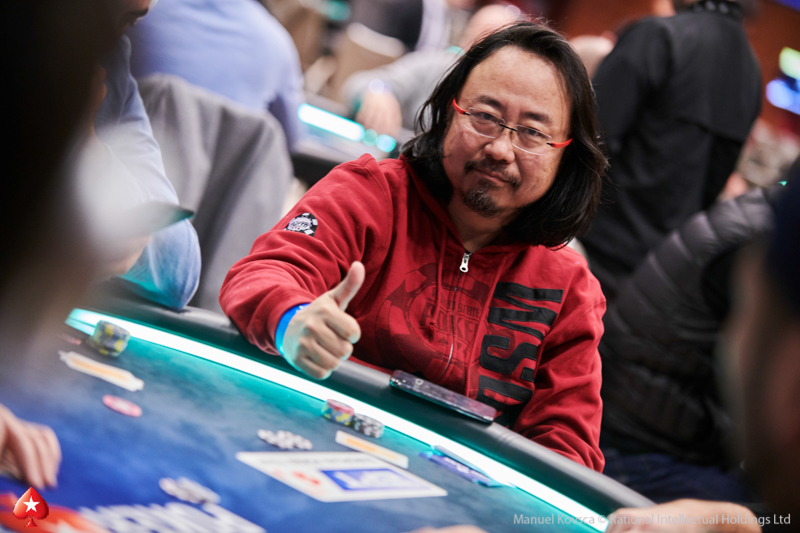 Guo big or go home
9:40pm: Dream flop for Roshanfekr
Level 8 – Blinds 500/1,000 (BB ante 1,000)
Picking up the story again at Sam Grafton's table, on the next hand he was still talking about the last one when he opened from under the gun for 1,800. Kayhan Mokri Roshanfekr called from a seat over, and Farid Yachou called as well from late position.
Then Julien Sitbon (winner of the previous hand) reraised to 8,900 from the small blind. Action folded to Grafton who called, Roshanfekr called, and Yacho called as well.
"Here we go," said Grafton, continuing to express excitement as he was at the end of the last hand.
The flop came 4♠ 4♦ 7♦ , and Sitbon led for 5,600. Grafton had had enough excitement and let his hand go, then Roshanfekr called. Then Yachou raised to 27,000, and Sitbon folded. Roshanfekr then went all in, and Yachou called in a flash.
Roshanfekr: 7♠ 7♣
Yachou: 4♣ 2♣
Oof! A dream flop for Roshanfekr, and a bit of a cooler for Yachou. The 5♣ turn and A♥ river ended it, and Roshanfekr bumped all the way up to 145,000. Yachou still has 105,000, Sitbon is on 70,000, and Grafton is on about 110,000.
And get this… after it was over, Sitbon says he swears he folded pocket kings!
Like I said, this is fun to watch. A lot safer, too, over here off to the side and not sitting at the table. –MH
9:35pm: Sitbon picks off Yachou's bluff
Level 7 – Blinds 400/800 (BB ante 800)
Some fun poker to watch in this High Roller, let me tell you. Two interesting hands just took place in succession over at Sam Grafton's table, one to conclude Level 7 and the other to start Level 8. I'll tell you about them in two posts.
The first hand I came upon on the river with the board showing 2♣ 6♦ K♥ 2♥ J♥ and Julien Sitbon having checked over to Farid Yachou on the button. Yachou set out a bet of 30,000, which was more than what Sitbon had behind, and after a bit of thought Sitbon finally came up with a call.
Yachou tabled 9♣ 4♣ for complete air, while Sitbon had K♣ J♠ for two pair to win the pot.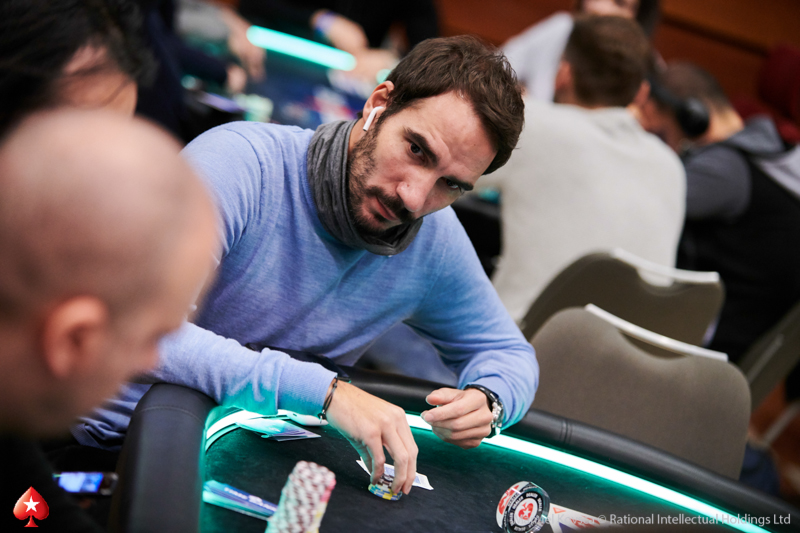 Good call by Sitbon
"All right!" said Grafton afterwards. "That's some poker!" He complimented both players for their river play, continuing to express excitement about what he was watching and a desire to get involved.
As he would… in the next hand. (Stay tuned.) –MH
9:25pm: Sow many good memories
Level 7 – Blinds 400/800 (BB ante 800)
What great memories Kalidou Sow has from this very poker room. He burst onto the world's radar here; he took down the PokerStars Championship Main Event here; and he just doubled up here in the €10K.
OK, it might not be one of his highlights just yet, but if Sow goes on to make a deep run he'll look back and smile at this hand.
We picked up the action on a J♣ 3♣ 4♥ flop. Andrei Konopelko led for 1,800 and Sow called to see the 6♥ turn. Now the bet was 4,200, but again Sow didn't budge.
The river was the K♣ , and Konopelko set Sow all-in. He snap-called.
Konopelko showed Q♠ 10♦ for just queen-high, while Sow also had queen-high, before the turn at least. His Q♣ 6♣ have rivered a flush.
Sow's up to 88,000 now, while Konopelko falls to 20,000. –JS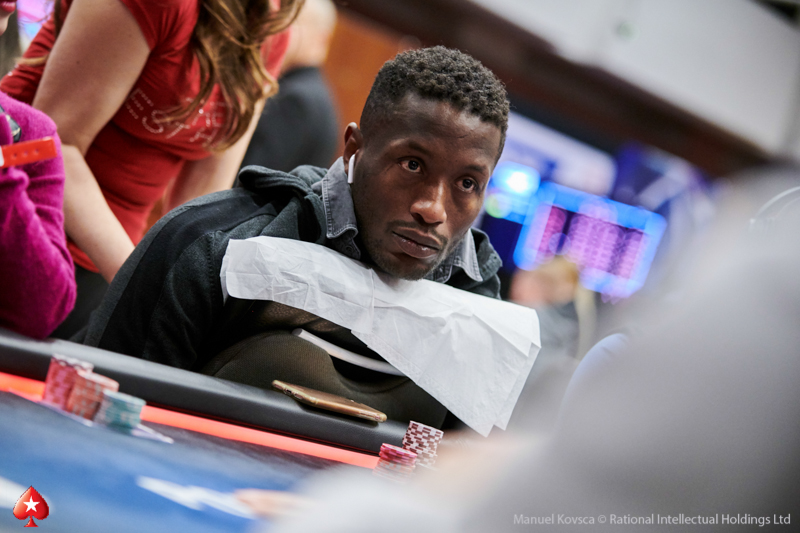 Sow, comfortable
9:15pm: Grafton gets Helppi
Level 7 – Blinds 400/800 (BB ante 800)
Sam Grafton is having a conversation about a poker hand. It's not about the hand he just played versus Juha Helppi in which the two players got all of Helppi's chips in the middle. It's about another hand. We'll let him continue to chat while we let you know about this Helppi hand.
Helppi had 10♥ 10♣ and alas for him Grafton had J♦ J♥ . The five community cards did nothing for Helppi's tens, coming 9♠ 5♣ K♣ 8♦ 4♣ , and Grafton claimed his stack.
Grafton looks like he has about 110,000 or 115,000 now, but he hasn't finished stacking his winnings. He will eventually. He's still having that conversation. About the other hand. –MH
9:05pm: Farrell flips out Muehloecker
Level 7 – Blinds 400/800 (BB ante 800)
Niall Farrell's stack has swelled to 82,000 after accumulating all of Thomas Muehloecker's chips.
The hand started with a 1,700 cutoff open which Muehloecker three-bet to 6,200 from the small blind. Farrell was in the big blind and he came in for a four-bet to 14,800, which quickly shook off the original raiser.
Muehloecker took around five seconds before announcing he was all-in for around 30,000, and Farrell called with the bigger stack, although he didn't seem too thrilled about it.
He had A♣ Q♦ , flipping against Muehloecker's 10♦ 10♣ . The 7♥ 6♣ 2♥ flop was safe for the tens, as was the 6♦ turn, but the Q♠ landed on the river to secure Farrell the pot.
Muehloecker exited, but can still re-enter should he wish. –JS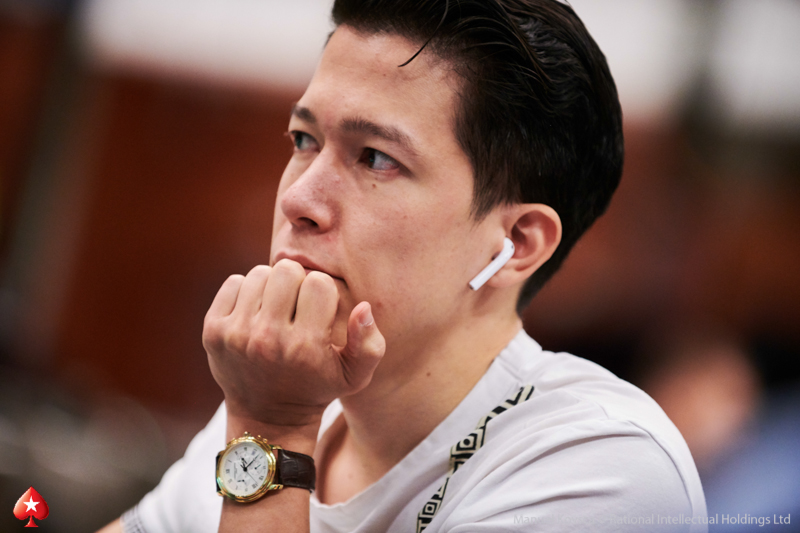 Harsh river for Muehloecker
8:55pm: Soininen done in by Mattsson
Level 7 – Blinds 400/800 (BB ante 800)
With the board showing 10♣ 8♣ A♠ 8♥ K♦ , Stefan Mattsson pushed all in with the 34,500 he had left, and as that was a bit more than what Niko Soininen had the latter had to think about it a short while before he finally came up with the call.
Mattsson swiftly tabled 10♦ 8♦ for a full house, and Soininen was made to show his A♦ 3♦ for aces and eights, the so-called "dead man's hand" from poker lore.
Soininen is out, while Mattsson is at around 115,000. –MH
8:50pm: Carrel clipped by Dzivielevski
Level 7 – Blinds 400/800 (BB ante 800)
One of the best things about these €10K High Rollers which close out the EPT stops is that you get to meet a lot of new players. Players no doubt good enough to be playing, but ones we might not have met before.
Take Brazil's Yuri Martins Dzivielevski for example. He's not someone we're familiar with on the EPT circuit, yet he has $670K in career earnings, including a win at the BSOP Millions Grand Final back in 2015 for $175K.
If he's going to play more in Europe, he'll have to get used to the staredowns from the "retired" Charlie Carrel, of which he was just on the receiving end for several minutes.
Dzivielevski had opened the pot under the gun and was called by Ognyan Dimov on the button. Gary Hasson was in the small blind and he three-bet to 5,000, only for Carrel to then four-bet out of the big blind to 11,200. Dzivielevski called, as did Dimov, but Hasson stepped aside.
The pot was already close to a starting stack when they reached the 9♠ 2♥ 7♣ flop. Carrel let his clock tick down to four seconds–studying both of his opponents intensely–before he checked it, and Dzivielevski then led out for 9,000. That got rid of Dimov, but Carrel stuck around.
They saw the K♦ hit the turn, and Carrel checked again. Dzivielevski opted to check it back, bringing the 4♥ on the river. Carrel used a time bank before checking, and Dzivielevski leaned forward to get a look at Carrel's chips. He then counted out 18,000 and pushed them forward.
Carrel snarled at the news, and picked up his time bank cards to count them. We could be here a while…
He'd only use one in the end though, letting it ago with a sense of disappointment. He's still got 60,700 to play with, while Dzivielevski has 72,000, Dimov has 28,200, and Hasson has 28,800. –JS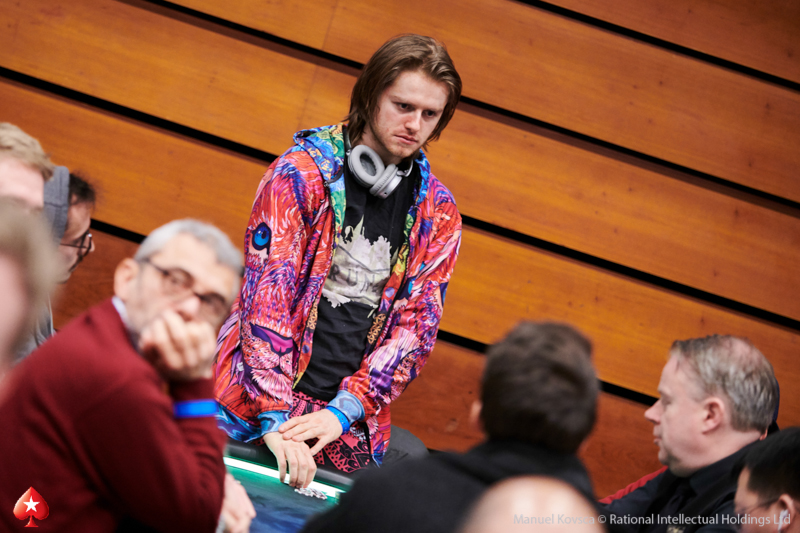 The Carrel staredown
8:40pm: Mandic ousts Rao
Level 7 – Blinds 400/800 (BB ante 800)
Soon after play resumed, Yan Rao got her stack in the middle against Goran Mandic and when all was said and done, Mandic's hand was best.
I'm not sure when the chips went in, but Rao held A♣ 2♠ and Mandic Q♥ Q♠ , and after the five community cards — J♦ Q♣ 3♠ K♠ 7♥ — Mandic had a set and had won the pot. Rao is out, while Mandic is at about 115,000 now. –MH
8:30pm: 150 full stomachs return
Level 7 – Blinds 400/800 (BB ante 800)
We're now up over 200 total entries, with 150 players returning from the dinner break. They'll play four more 60-minute levels tonight before the chips are bagged. –JS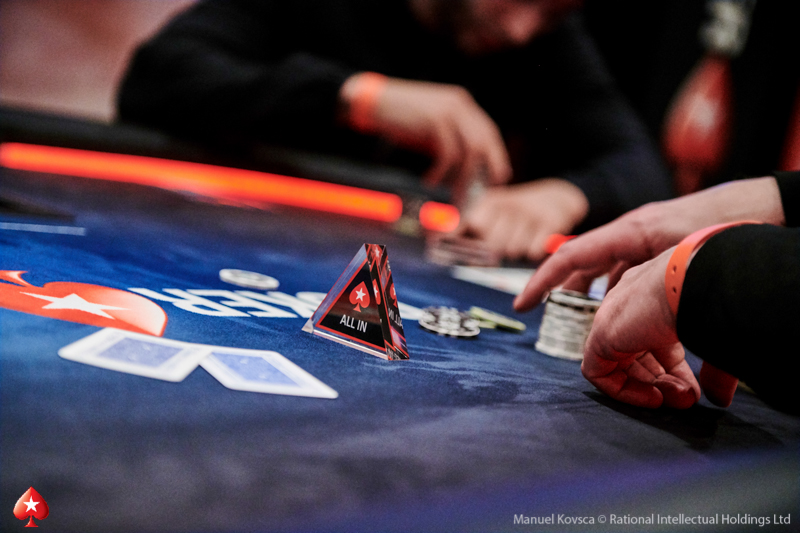 More poker? We're all in
7:20pm: Dinner time
With the total entries almost but not quite at 200, the dinner bell has run and players are off on a 75-minute break. Back around 8:30pm to get going again. –MH
7:15pm: Happy runout for Hong
Level 6 – Blinds 300/600 (BB ante 600)
After Luc Greenwood opened from middle position for 1,200 and the button called, Nan Hong reraised all in for his last 11,500 and only Greenwood called.
Hong had 7♦ 4♦ and slim hopes versus Greenwood's Q♦ Q♥ . How slim? Something like a little less than 1 in 5, say the hold'em calculators.
The 2♦ 3♥ 5♣ flop provided a draw to one way for Hong to get there, and while the K♣ turn was unhelpful for him the A♠ river did the trick, giving him a wheel and earning a slight grin from Greenwood.
Hong keeps his seat with about 26,000, and Greenwood still has 78,000 as the dinner break approaches. –MH
7:10pm: No rest for Luo
Level 6 – Blinds 300/600 (BB ante 600)
Xixiang Luo busted out of the Main Event in 22nd place for €33,540. Just ten minutes later he's invested a third of that, taking his seat here in the €10K High Roller.
Luo's found himself on a table with Max Silver and Lucas Reeves. –JS
7:05pm: Soyza sizes up against Kitai
Level 6 – Blinds 300/600 (BB ante 600)
Davidi Kitai got this one going with a 1,400 open in the UTG+1 seat. It folded around to Michael Soyza in the big blind who defended, bringing a 9♣ Q♥ 7♦ flop. He checked it to Kitai who continued for 1,800, and then called.
The dealer burned and turned the K♠ and it checked through to the 6♥ river. Soyza then fired out a bet of 10,000 into a pot of 7,300, and Kitai took a peek at his cards, glanced back at Soyza, then tossed them in the muck.
He's on 110,000, while Soyza has 65,000. –JS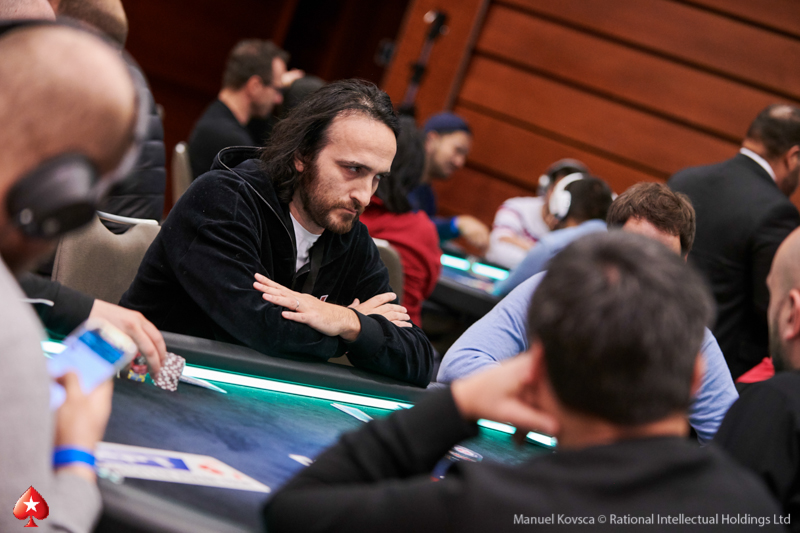 Double starting stack for Kitai
7pm: Big call Boivin
Level 6 – Blinds 300/600 (BB ante 600)
Thomas Boivin was spending his time banks contemplating a 2♣ 6♦ 2♠ 5♥ Q♣ board and a more-than-pot-sized bet of 35,000 from Steve O'Dwyer after Boivin had checked.
Boivin tanked for more than a minute, then finally made the call and O'Dwyer tapped the table as he turned over A♦ K♣ , acknowledging in advance that Boivin's hand was probably good. Boivin showed 4♠ 4♥ , and indeed it was best to give him the pot.
As it happens both Boivin and O'Dwyer are at almost exactly 122,000 after that exchange. –MH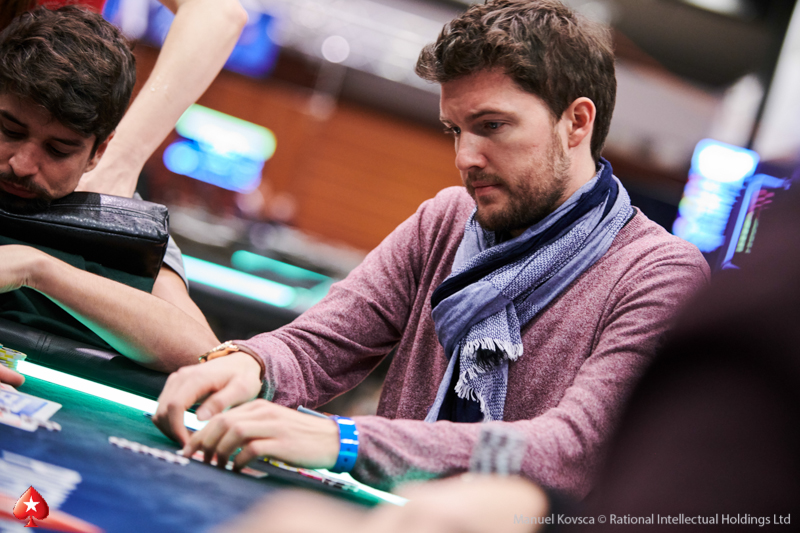 Boivin calls, collects
6:55pm: Petleshkov pushed out
Level 6 – Blinds 300/600 (BB ante 600)
We've just lost Viliyan Petleshkov in a cooler situation versus Hady El Asmar.
All of Petleshkov's money went in pre-flop with Q♦ Q♣ – a damn fine hand I'm sure you'll agree. Only problem was that El Asmar had K♥ K♠ , and when the board ran out J♦ 5♦ 8♣ 2♠ 7♠ Petleshkov was eliminated.
El Asmar is up to 54,000 now. –JS
6:50pm: Sow stacks Dvoress
Level 6 – Blinds 300/600 (BB ante 600)
"I started with 13,500."
So said Daniel Dvoress after he raised to 1,200, watched the table fold to Kalidou Sow in the big blind, and Sow asked how much Dvoress was playing. Sow then raised to 4,900, and when Dvoress responded by putting all of those 13,500 chips in as a reraise-shove, Sow thought a short while before calling.
Sow: A♦ K♦
Dvoress: 8♠ 8♥
The flop came Q♥ 5♦ A♣ to hit Sow's ace, then the K♣ turn made two pair for the defending Main Event champion here in Prague. The river was the 2♦ , and Sow claimed Dvoress's stack. Sow now has 72,000. –MH
6:40pm: Big stacks before the break
Level 6 – Blinds 300/600 (BB ante 600)
There are 36 minutes before the players head off on their 75-minute dinner break, so we've taken a look around for the biggest stacks in the field.
Right now those belong to:
Vladimir Rosliakov – 205,000
Steve O'Dwyer – 157,000
Stefan Huber – 155,000
Bahram Chobineh – 150,000
Andrei Konopelko – 150,000
Dan Djorno – 110,000
Thomas Paiva – 105,000
–JS
6:30pm: A €10,300 ace for El Asmar
Level 6 – Blinds 300/600 (BB ante 600)
Hady El Asmar is a huge fan of Barry Greenstein.
By Greenstein I of course mean an ace on the river, although who knows, maybe he's fond of the PokerStars Team Pro too. It just saved him having to re-enter.
El Asmar was all-in pre-flop for his last 9,700 with A♣ 7♣ against Aku Joentausta's 8♥ 8♦ , and up to the turn the board looked like this: 6♥ 10♠ J♠ 10♦ .
The river was — you guessed it — the A♦ , doubling El Asmar up and dropping Joentausta down to 36,600. –JS
6:20pm: Finger finds a fold
Level 5 – Blinds 200/500 (BB ante 500)
Why is "abbreviation" such a long word? Why does quicksand work so slowly? Why did Tomas Paiva just now limp-reraise?
There are no answers.
Paiva limped in from middle position, as did his neighbor to the left, then it folded around to Martin Finger in the big blind who raised to 4,000. That's when Paiva reraised to 9,500. His neighbor folded, and after pondering the mystery a short while Finger folded as well.
We'll never know.
We do know that Paiva has about 120,000 right now, Finger 75,000. –MH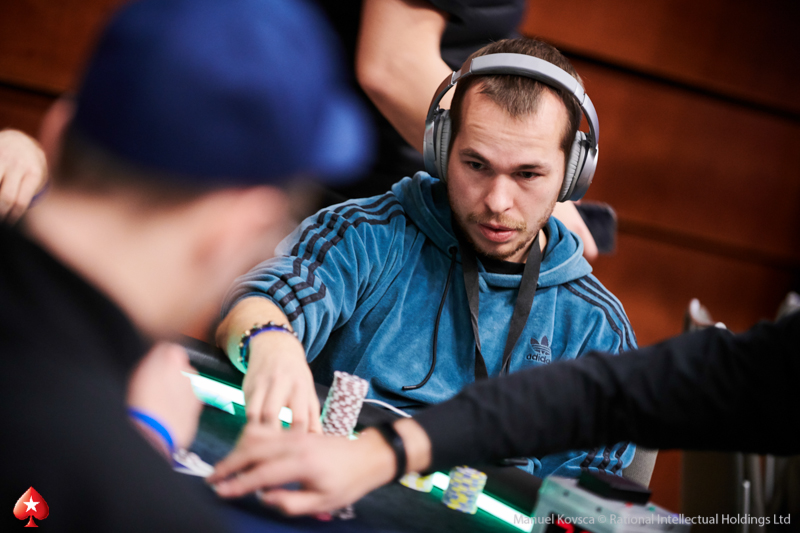 Martin Finger: Pondering another of life's great questions
6:10pm: Brink's full house beats Iliakis's flush
Level 5 – Blinds 200/500 (BB ante 500)
Nikolaos Iliakis had a pretty good hand — A♦ 5♦ on a Q♦ 6♦ 3♦ Q♥ 2♥ board for an ace-high flush. But it wasn't enough against Frederik Brink's 6♣ 6♣ for a full house, and after losing his stack Iliakis departed from the table.
Brink is on 68,000 at the moment with about five minutes to go in Level 5. –MH
6pm: Delfoco no stranger to the High Rollers
Level 5 – Blinds 200/500 (BB ante 500)
It was here in Prague in 2015 that Francesco Delfoco won his last live tournament. The €2K side event at EPT Prague that year saw him defeat a tough final including Ole Schemion (2nd) and Joao Vieira (3rd). With competition like that, it must have felt like a high roller.
He was tangling with a couple of big names just now, and managed to get the better of them. There was a 3♥ A♠ 6♣ flop out when we arrived, and Frederik Jensen (big blind) checked to Sam Greenwood in the hijack. He led for 1,100, which both Delfoco (button) and Jensen called.
The turn was the 8♥ and Jensen checked again. Greenwood continued for 5,500, only for Delfoco to then raise it up to 12,500. That shook off Jensen, but Greenwood was intrigued. He used a time bank card before putting in calling chips.
They saw the 7♣ hit the river and now Greenwood checked. Delfoco fired out 21,000, and Greenwood took around ten seconds before laying his hand down.
He's on 33,000 now, while Delfoco is up to 80,000. –JS
5:55pm: Silver loses stack after bad luck hands
Level 5 – Blinds 200/500 (BB ante 500)
"That's bad luck," said Phachara Wongwichit. "Yeah… I guess we've all been there," replied Simon Ravnsbaek.
The pair were talking about Max Silver, who after two bad luck hands in a row just lost his first stack in this event, with Wongwichit and Ravnsbaek being the two players who together took all his chips.
The first hand I came upon after the board had been dealt and the players had tabled their cards, and it appeared as though it might've been an preflop all-in situation. Silver had A♠ K♦ and Ravnsbaek A♥ 5♥ , and the 9♣ J♦ 8♣ 7♠ 6♣ board had added up to a straight for Ravnsbaek who won the pot of about 55,000.
On the next hand, Silver open-raised with the 3,800 he had left and it folded to Wongwichit on the button who called. Silver had A♥ Q♥ and Wongwichit A♦ J♠ , but again the better ace lost as the board came 7♦ K♦ Q♦ 2♦ Q♣ to make a straight for Wongwichit who now has a bit stack of over 150,000.
Try, try again, they say. Silver said as he was leaving he'll be entering again. He will try once more to get his chips in good, and hopefully the next time things will work out. –MH
5:45pm: Kassouf pushed off by Muehloecker
Level 5 – Blinds 200/500 (BB ante 500)
We haven't heard William Kassouf be as loud and chatty as usual at this EPT stop. Today's reason being that he's playing against some of the very best, in a tournament he took down back in 2016.
Kasouf opened from the hijack, and faced a large three-bet to 8,200 from Thomas Muehloecker on the button. Kassouf called to see a Q♣ K♥ 2♣ flop, and then check-called a 6,300 c-bet.
The 4♥ hit the turn, and when Kassouf checked again Muehloecker slid out 30,000, enough to cover Kassouf's 22,500 stack. After weighing up his options Kassouf laid it down, saying "nice bluff".
Muehloecker showed the 10♣ and is up to 58,000. –JS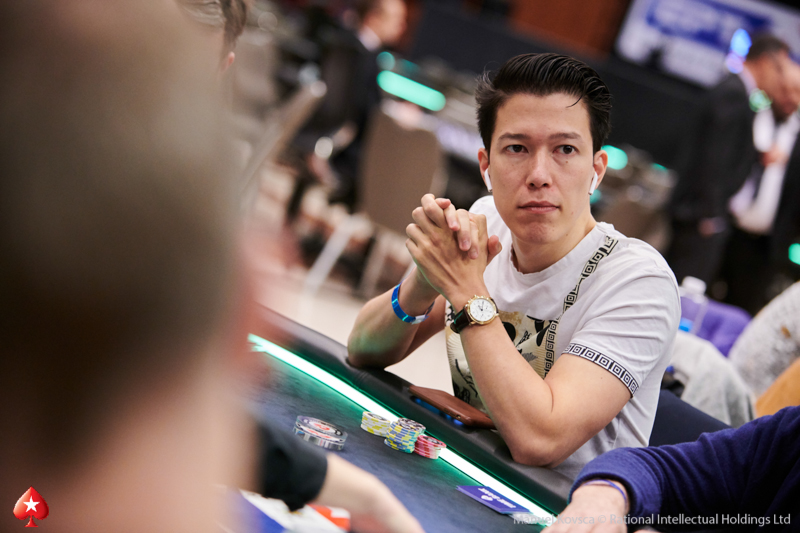 Was Muehloecker bluffing?
5:35pm: Dario's in town, but no more Noda
Level 5 – Blinds 200/500 (BB ante 500)
A week ago today Dario Sammartino was crushing the High Roller Club online, winning two events. He's switched the virtual felt for the real stuff this Sunday.
When we arrived at his table, it had checked to Sammartino on a 7♥ 6♣ 7♠ flop and he led for 1,800. Hiroyuki Noda called on the button, and the small blind folded, before Tomas Jozonis raised it up to 6,200 out of the big blind seat.
Sammartino folded quickly, but Noda counted out his chips before making the call. The turn was the 4♥ , and when Jozonis checked Noda quickly moved all-in for 23,600 into a pot of roughly 19,000.
Jozonis used up a time bank whilst thinking I through. He landed on a call.
You could tell right away this was bad news for Noda, who wriggled in his seat before turning over K♥ 2♥ for a flush draw. Jozonis had 6♦ 8♥ for sixes and sevens, and that would remain best after the 4♠ river.
Jozonis had Noda covered, so the man from Japan will now need to re-enter if he wants to keep playing. Jozonis is up to 65,000 now. –JS
5:25pm: Comings and goings
Level 5 – Blinds 200/500 (BB ante 500)
Players continue to arrive to join this one, as we expect they will do most of the day as late registration remains open until the start of tomorrow's Day 2. Among the latest to sit down is last year's Main Event champion in Prague, Kalidou Sow.
Meanwhile Andrey Zaichenko has busted and re-entered, one of 18 players who have made their second and final entry allowed in the event. Currently the total entries is up to 178, meaning the total prize pool has nudged up over €1.7 million to this point (and it will surely keep growing). –MH
5:20pm: Back to work
Level 5 – Blinds 200/500 (BB ante 500)
Players are back in their seats and Level 5 is underway. They'll play two more one-hour levels before taking a 75-minute break. –MH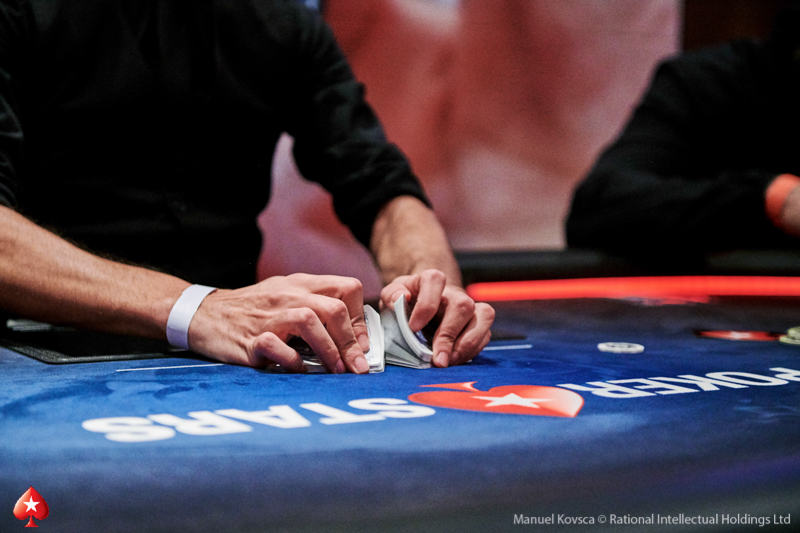 Blend 'em and send 'em
5pm: Break time
They 156 players currently in action have reached their next 20-minute break. See you on the other side. –MH
4:55pm: Van Gent picks off Soyza's bluff
Level 4 – Blinds 200/400 (BB ante 400)
With the board showing 5♠ 3♠ 6♠ 4♦ , Cornelis Van Gent led for 3,100, then Michael Soyza raised to 9,300 and Van Gent slowly called. The river was the J♥ , and after Van Gent checked Soyza quickly said he was all in for his last 37,500.
Van Gent didn't have too much more than that behind, so despite the fact he held 8♣ 7♣ for a straight (as we'd come to learn), he had to think about it long enough to spend a couple of time bank cards. Finally he did call, and Soyza showed he had bluffed with A♠ Q♦ before saying "gg" to the table and departing.
Post-hand discussion at Van Gent's end of the table included him explaining a little why he had made the call, though admitting it wasn't necessarily the easiest decision. "It cost me two time banks," he said, and when the others mock-consoled him for the loss Van Gent chuckled.
He has 120,000 now with the break almost here. –MH
4:50pm: Nedved builds through Schemion
Level 4 – Blinds 200/400 (BB ante 400)
Ole Schemion might be dressed head-to-toe in maroon (aside from his pink beanie), but he's in the red after this last hand.
He made it 1,100 to go in the cutoff, and when it folded to Johnny Nedved in the big blind he raised it up to 2,700. Call.
The flop fell 10♠ 3♥ 5♥ and Nedved continued for 4,500. Schemion called quickly, taking them to the K♣ turn. Now Nedved fired 10,000, and that was too much for Schemion who let his hand go.
Nedved's up to 63,000, while Schemion dips to 41,000. –JS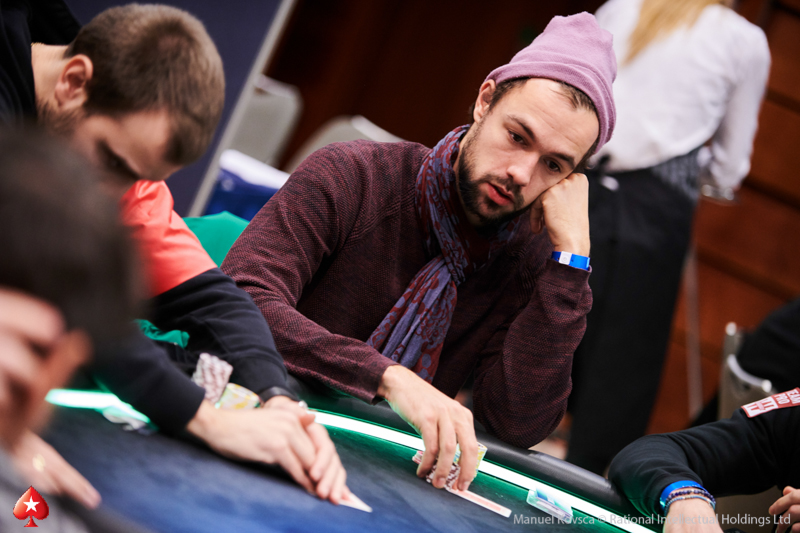 Schemion marooned in the €10K
4:45pm: VIDEO: Corentin Ropert wins €25K Single Day High Roller
Level 4 – Blinds 200/400 (BB ante 400)
On Friday, Corentin Ropert was feeling a little down in the dumps. Poker hadn't been kind to him so far on his trip to Prague, so he planned to stay in his hotel room and watch a movie.
But then he read about Thomas Boivin, who satellited into Thursday's €25K Single Day High Roller and won it the next day for €375,520.
Ropert (who usually plays up to a maximum €2K buy-in) thought to himself, maybe I could do that too?
Corentin Ropert: Welcome to the High Rollers
He could. And he did. And now he has €277,560 to show for it.
Check out a video and interview with Ropert here. –JS
4:35pm: Heidorn doubles through Fast
Level 4 – Blinds 200/400 (BB ante 400)
Robert Heidorn was just all in with A♣ K♠ , and that was a good hand to have against Dietrich Fast's A♦ Q♦ .
It remained a good hand after the 2♣ 10♠ 2♥ 7♠ 5♦ runout, and Heidorn stays in action playing 45,000. Fast is down to 15,000. –MH
4:20pm: Conan the aggressor
Level 4 – Blinds 200/400 (BB ante 400)
Arthur Conan, who finished 80th in the Main Event yesterday, only arrived here in the High Roller recently, taking a seat to the right of the formidable, high-roller trophy-accumulator Steve O'Dwyer. But he's clearly ready to play.
Just now Conan watched O'Dwyer raise to 1,000 from under the gun, and it folded back to Conan who made it 4,200 to go from the big blind. O'Dwyer then four-bet to 10,400, and Conan responded with an all-in shove. O'Dwyer folded right away.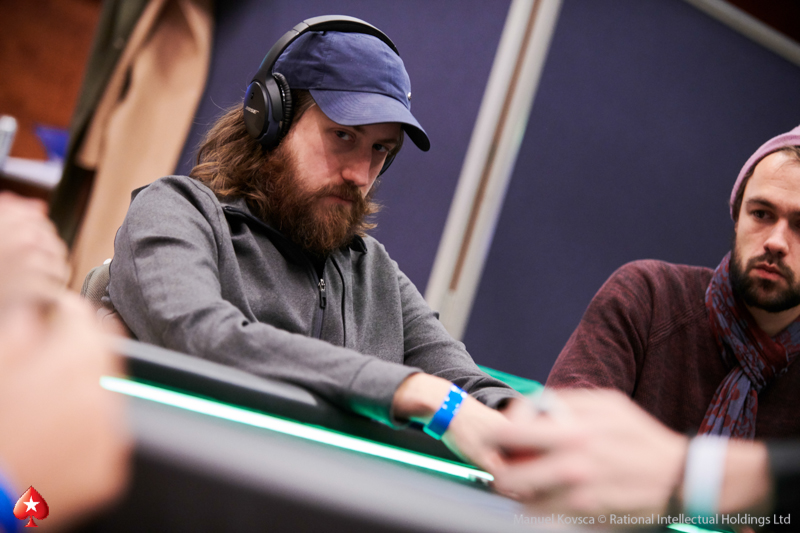 Go ahead, take it… says O'Dwyer
Conan bumps up to 64,000 just like that, while O'Dwyer has 56,000. –MH
4:10pm: The Romain event
Level 4 – Blinds 200/400 (BB ante 400)
Romain Lewis just got value on the river. And for one player to get value that means another has to pay, as Bahram Chobineh did — losing chips and a time bank card.
The pair had reached the river with the board showing 9♣ A♥ A♦ Q♥ 2♥ when Lewis made a biggish bet of 13,500, and Chobineh tanked before making the call. Lewis showed K♥ 7♥ for the heart flush, and Chobineh showed one card — the A♠ — to reveal his trips had made him call.
Chobineh is still doing well with 76,000, while Lewis is at 65,000 now. –MH
Romain's the name, poker's the game
4pm: Near double up for Wigg
Level 4 – Blinds 200/400 (BB ante 400)
Former EPT champ Anton Wigg crashed out of the Main Event just after 3pm today. Just a few minutes later he took a seat here in the €10K.
And now, less than an hour later, he's just about doubled his starting stack.
Picking up the action at the end of a K♠ 6♣ 8♠ 4♥ 4♣ board, Vladimir Demenkov had a bet of 6,000 in front of him which Wigg had raised to 25,700. Demenkov was thinking it over when we arrived, and ended up making the call.
Wigg showed J♠ 4♠ , having flopped a flush draw and then enjoyed running fours to make him trips. Demenkov mucked.
He's down to 12,700 now, while Wigg is up to 92,000. –JS
3:50pm: Ensan takes a seat, Thorel takes his chips
Level 3 – Blinds 100/300 (BB ante 300)
Hossein Ensan has joined the field, which has now grown to more than 135 entries. Ensan returns to the site of his greatest poker triumph, having won the EPT Main Event here in Prague back in 2015 when he topped a field of 1,044 to win a first-place prize of €754,510.
Ensan takes a seat in between Dietrich Fast and Jean-Noel Thorel, and soon after sitting down opened with a raise. Jean-Noel three-bet him, which might not seem like a very Christmasy thing for someone named Noel to do. But when Ensan folded, Thorel did offer a gift of sorts by showing his hand — A♦ K♥ — before claiming the small pot. –MH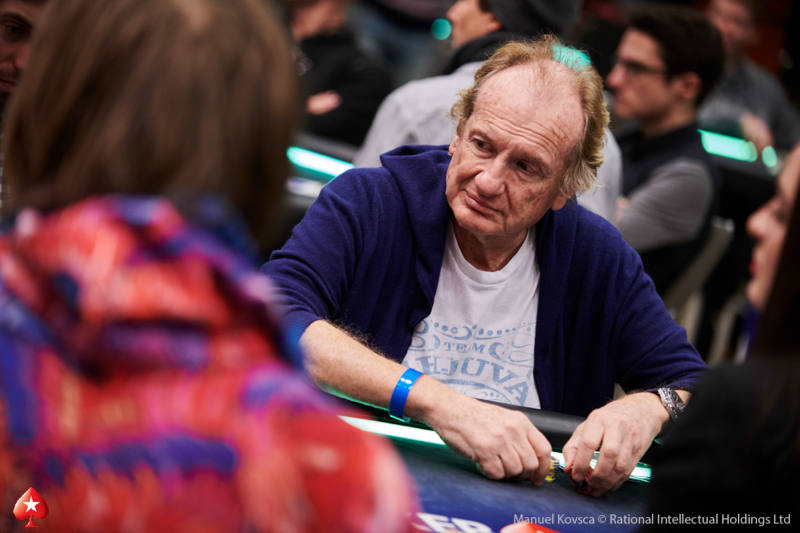 Jean-Noel… Jean-Noel…♫ Jean-Noel…Jean-Noel…♫
3:45pm: Double up for Reeves
Level 3 – Blinds 100/300 (BB ante 300)
Lucas Reeves goes by the screen name "Bit2Easy" on PokerStars, but even though he flopped a set in this hand, it was by no means a sure thing.
The hand began with an 800 open which Reeves called. It folded to the small blind of Danilo Velasevic and he matched it, before Gary Hasson squeezed it up to 4,000 from the big blind. The original raiser quickly folded, and Reeves moved all-in for 10,700. Velasevic stepped aside, and Hasson made the call.
Reeves had 9♣ 9♥ up against Hasson's A♦ K♦ , and the 8♦ A♠ 9♠ gave Hasson top pair and Reeves middle set. The 10♦ turn spiced things up, giving Hasson a flush draw.
But the J♣ river kept Reeves in front, and he now sits with 23,300, while Hasson dips to 27,600. –JS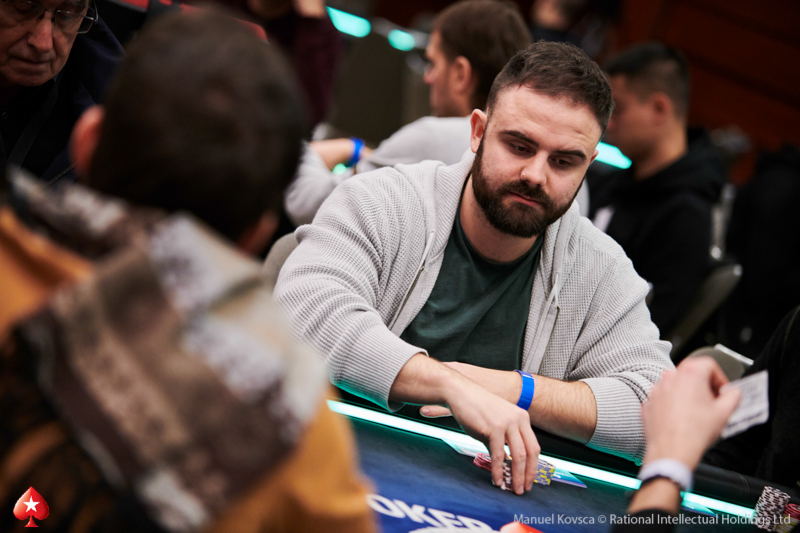 Lucas "Bit2Easy" Reeves
3:35pm: Grafton and Talbot rate each other's chances
Level 3 – Blinds 100/300 (BB ante 300)
The Main Event is playing out on the tables right next to the High Roller, with just 29 players left in that one vying for the top prize of €1,020,000. Parker Talbot is among those remaining, and with the Main on a break just now he wandered over to chat with Sam Grafton who is part of the High Roller field.
Grafton tried to tell Talbot he's the best player left in the Main Event field, but Talbot wasn't hearing any of that, listing off several others who are left then suggesting he might only be the fourth-best at his table.
"But you're Parker Talbot!" replied Grafton, the table listening on with wry grins all around. "You're the kind of guy who wins the Main Event." "You're an idiot!" grinned Talbot in reply, and the pair continued with some ribbing about Grafton's possible status relative to the 100-plus who have entered the High Roller.
Despite Talbot's protestations, he certainly is the kind of guy who could win the Main. But Talbot is right, too, about the quality of those he'd have to get through to do so. –MH
3:25pm: We're making a list, and checking it twice
Level 3 – Blinds 100/300 (BB ante 300)
I bet you'd like to know just who is playing this €10K High Roller, wouldn't you? Well, as Christmas is the time of giving, here's your present.
Max Silver is in the field, and he's essentially looking for back to back wins having won this same event back at EPT Barcelona in August for €600,924.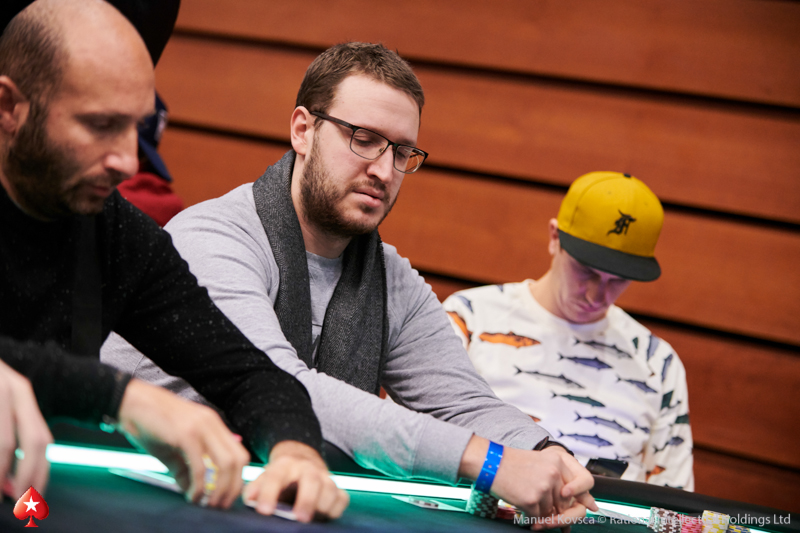 Max Silver won gold in Barcelona
The man he defeated heads-up, Norbert Szecsi, is also playing. In fact, he's now on his second bullet.
A bunch of the Super High Roller regs are in the mix, including Steve O'Dwyer, Timothy Adams, Sam and Luc Greenwood, Lucas Reeves, Thomas Muehloecker, and Ole Schemion.
Then we've got the likes of former EPT Prague champ Martin Finger, French businessman Jean-Noel Thorel, and Finnish veteran Juha Helppi (fresh off his deep run in the Main), to name just a handful.
Entry is open all day today, and doesn't close until things kick off tomorrow. –JS
3:15pm: Restoring order
Level 3 – Blinds 100/300 (BB ante 300)
We mentioned below how Charlie Carrel had hopped back in after busting his first stack early on. He was just now in a hand with Satish Sanan in which he might have lost a good chunk of that new stack, but a small slip by Sanan allowed Carrel to escape more cheaply.
The pair had reached the river with the board showing 4♣ 8♣ 4♠ 3♦ J♠ with Carrel playing out of the small blind and Sanan on the button. Wiht around 12,000 in the middle already, Sanan acted too hastily and tossed out a bet of 10,000 before Carrel could act.
It was explained to Carrel that it was still his action, and when he checked Sanan made a second mistake and began to table his hand, with only one of his cards — the 4♦ — turning over.
The floor was called over and he explained that it was Carrel's turn again, with Sanan having bet his 10,000, and Carrel chose to let his hand go. Sanan then had to sit out two hands for acting out of turn, and the two of them chuckled about what might have happened if not for the slip-up — especially since Sanan said his other card was a jack and Carrel said he had folded four-deuce! –MH
3:10pm: Stay seated Sitbon
Level 3 – Blinds 100/300 (BB ante 300)
Our first stroll out into the field and we caught a big hand from the off.
Krasimir Yankov opened to 800 in the hijack, which Davidi Kitai called from the cutoff. Julien Sitbon then came along on the button, and the big blind called too to bring a 2♠ Q♣ 8♠ flop.
Yankov continued for 2,000 when. It checked to him, and Sitbon was his only caller heading to the 9♦ turn. Yankov didn't slow down firing 6,600. Call.
The 8♦ completed the board and Yankov stood up to get a better look at Sitbon's remaining chips (16,200). He then pulled out all of his blue 5,000 chips, and pushed them all over the line for a bet of 30,000. In other words, he was setting Sitbon all-in.
Sitbon squirmed and shook his head as he tried to piece this one together. The board was paired, and there was a potential straight out there too.
In the end he announced a fold, and will live to fight another pot. Yankov is up to 49,500 after that, bringing him back to starting stack. –JS
3pm: Two levels down, play resumes
Level 3 – Blinds 100/300 (BB ante 300)
Players are back from their first 20-minute break of the day, with the big board showing 97 entries so far in this €10K High Roller event.
Charlie Carrel was an early knockout in this one, but he's already exercised his option for a single re-entry. Same goes for Saar Wilf, who after getting felted early is back in with a new 50,000-chip starting stack. –MH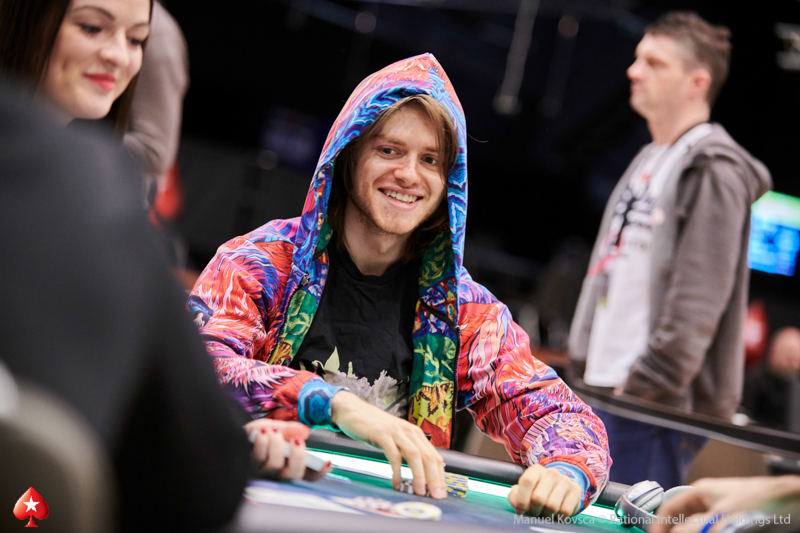 Carrel: Out and back in
12pm: High Roller event starts today
Today marks the start of the three-day EPT Prague High Roller event. The event sports a €10,300 buy-in with a single re-entry option available. A year ago Daniel Tang was the winner of this event, topping a 256-entry field to claim the trophy and a €381,000 first prize.
This is where you'll find live updates throughout Day 1, with our coverage starting later this afternoon, through to the end of play in the early hours of Monday morning.
So check back this afternoon for the start of our coverage from 3pm local time.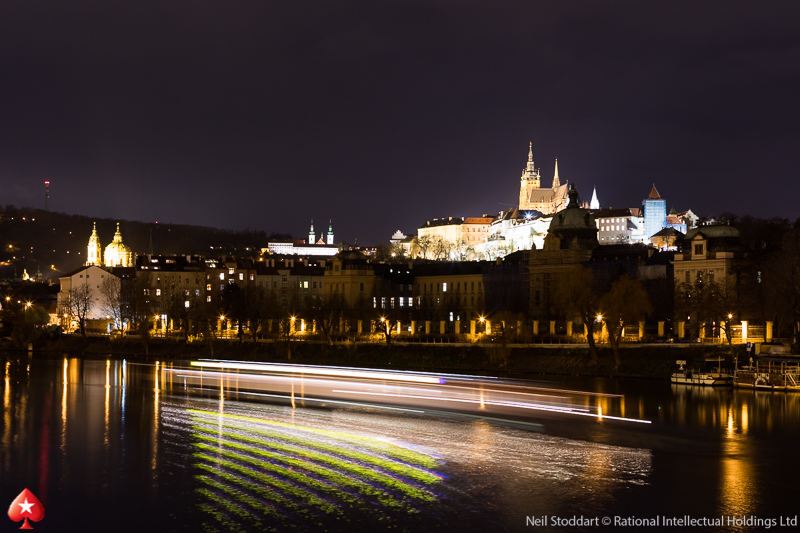 ---
Download the PokerStars LIVE! app with all tournament information. Available for IOS and Android.
PokerStars Blog reporting team on the €10,300 High Roller: Martin Harris and Jack Stanton. Photography by Manuel Kovsca.

Back to Top