You people…you poker people…you can be pretty amazing sometimes.
You hear people talk about Christmas coming early. You hear about Christmas coming late. Today, Christmas arrived right on time. It's hard to even know where to start.
For a great many people in the poker world, this story started a year ago when we began talking about the PokerStars Players No-Limit Hold'em Championship. For a lot of other people around the globe, that story started today when the only thing that seemed to matter was this. And who could disagree with them?
---
I bought my husband a trip to the WSOP in Vegas for Christmas this year. We've never been able to afford to go til this year. He was very surprised! @WSOP @RealKidPoker @phil_hellmuth @MagicAntonio @PhilLaak @PokerGO #poker #wsop pic.twitter.com/QTRHY4zNST

— Randi Hilsercop (@Randi_heatlifer) December 25, 2018
JEREMY'S CHRISTMAS WISH
That's Jeremy. Jeremy's a hardworking guy from Tennessee who loves poker. He's had the same dreams as everybody else about going to the WSOP. But flights to Vegas, hotel rooms, food, buy-ins…they all add up, and even the hardest-working people in the world can struggle to put together the cash to go to Vegas' yearly poker summer camp.
So, there wasn't a poker player in the world who could watch Jeremy getting this gift from his wife and not be able to relate: a trip to Vegas, staying at the Rio, his dad there with them. It was a dream that had finally just made it to the good side of reality. Jeremy was overcome.
And so, it seemed, was everybody else in the poker community. People began reaching out to Jeremy, offering help, working to get him staked, coached, and all sorts of other things. An overwhelming Christmas became something indescribable.
That's why what happened next is so amazing.
A HARD DECISION MADE EASY
Another drama had been playing out for a week, one entirely unconnected to Jeremy's family, one that was a bit more insular to the poker world. It was all good fun. If you missed it, Arlie Shaban had been working through 12 herculean labors all in an effort to win a Platinum Pass. If he completed all his tasks, he would get that Pass, good for a $25,000 entry into the PSPC, a trip to the Bahamas, a stay at Atlantis, and a chance to play for millions. It was silly and serious all at the same time.
The 12th of those labors was an interesting one. He was dispatched to offer a Platinum Pass to Joey Ingram, one of poker's firmly independent voices, one critical of the industry when he believes criticism is warranted, one who Arlie had reason to believe wouldn't snap-accept the gift for obvious reasons. There's a lot of backstory that goes with all of this, but suffice it to say, literally no one but Joey knew what was going to happen. Joey tanked and thought about it. Joey suggested he might have an answer yesterday. Everyone started eating their Christmas dinners and then everything exploded into some crazy-unbelievable sequence of goodness.
Nobody better than Joey to let you know how he answered:
I will accept your $30k Platinum Pass offer today on XMAS @PokerStars @PokerStarsLIVE if we can also get Jeremy a Platinum Pass as well. I think him & his wife @Randi_heatlifer could use the sun. @ArlieShaban wins his Platinum Pass as well. @erichollreiser

— Joey "Clause" Ingram (@Joeingram1) December 25, 2018
From a distance, all I could do was slow-clap in Ingram's direction. Well-played sir.
And so it came that Joey Ingram became sleeveless-shirt-wearing Santa Claus for a man in Tennessee who had already received the gift of a lifetime from his wife.
Jeremy is going to play the PSPC in a couple of weeks.
Joey is going.
Arlie is going.
And we get to cheer for them all.
IT'S A PRETTY GOOD LIFE, FOLKS
Here's the thing, folks. I'm having a pretty good day. I've been wearing a Chewbacca onesie and a fedora all day, and I'd nodded off for a Christmas nap for 30 minutes when my phone started blowing up. I wasn't planning to work. And, I'm still not. This is more like a gift. A reminder of just how good the poker community is.
Ingram took a difficult spot and made it arguably the best story of the year. A young poker hopeful (one who I can't help but mention is from Tennessee like another poker hopeful from 15 years ago…) is going to play the PSPC and then go to the WSOP. Our PokerStars pincushion, Arlie, is going, too.
But beyond that…look at you people come out of the woodwork to kick in help.
This is Jeremy's wife:
Oh my gawd oh my gawd oh my gawd!!!!!!! I can't believe this I'm at a loss of words the generosity and love we are receiving has been….. I have no words. Oh and @JeremyHilsercop has reactivated his twitter for this lol I'm dying??????? https://t.co/MjXkVPvhEG

— Randi Hilsercop (@Randi_heatlifer) December 25, 2018
You could be forgiven for occasionally forgetting the best of people. These are strange times we live in where it sometimes seems the individual bad is amplified so much, it drowns out the communal good. You can find yourself longing for that good thing…that good day…that amazing wash of relief that there is good in the world.
And, apropos of the occasion, today–Christmas around the world–is that day.
The poker community just showed up to once again show that, at its roots, it is made up of good, generous people. It's what made me love this whole thing to begin with. Whether it's Shaun Deeb offering to help out with passports for Jeremy's family, Phil Galfond offering his help and sweet clothes, or even that guy who wished to remain anonymous about his role in this…(hell, ESPECIALLY that guy), you all made this Christmas for a lot of people. Including me. All of sudden, poker wasn't about a person, or a company, or a promotion, or anything.
It was just about people. Our community of people.
Thanks, folks.
And Merry Christmas.
---
As a writer, I'm not much one on Twitter round-ups, but the story is playing out there in real time, I'm due at Christmas dinner, and I'm not sure about the Chewbacca onesie etiquette. I gotta bounce.
So check this out.
?? PLOT TWIST https://t.co/nNg2f4Hg1D

— Arlie Shaban (@ArlieShaban) December 25, 2018
Next time you come to the table with headphones on, sit in silence and bet 475 after a 90 second tank, think of Jeremy and how many of them we get the privilege to play with @WSOP and how your interaction may determine their level of fun. Merry Christmas

— David Baker (@audavidb) December 25, 2018
Best Christmas of my life!!! I JUST WON A $30,000 PLATINUM PASS AND TRIP TO THE BAHAMAS IN 2 WEEKS!! I really cant say thank you enough to everyone who rallied behind me and showed support! And THANK YOU to @PokerStars and @Joeingram1 !! VERY DESERVED FOR JEREMY @Randi_heatlifer https://t.co/qwnsqfcu9Y

— Arlie Shaban (@ArlieShaban) December 25, 2018
WHAAATTT!!! Pokerstars crushing Christmas right now!

Nice job Papi with the solid counter. ???? https://t.co/hEw6jalrTd

— Daniel Negreanu (@RealKidPoker) December 25, 2018
The next time you find yourself complaining about a bad beat, waiting in a line, or a dealer mistake, watch this video and try to appreciate how lucky you are to take part in something so many can only dream of. https://t.co/Bmy4YpAaeP

— Daniel Negreanu (@RealKidPoker) December 25, 2018
What an amazing day for poker! @ArlieShaban wins, @Joeingram1 wins, @jhilsercop wins, PokerStars wins.

Love seeing the community come together and do something like this!

— Lance Bradley (@Lance_Bradley) December 25, 2018
Dear @gpi @EricDanisPoker, I think we just had our #AmericanPokerAwards Moment of the Year ?

All in favor, RT pic.twitter.com/BynvGc81sL

— Robbie Strazynski (@cardplayerlife) December 25, 2018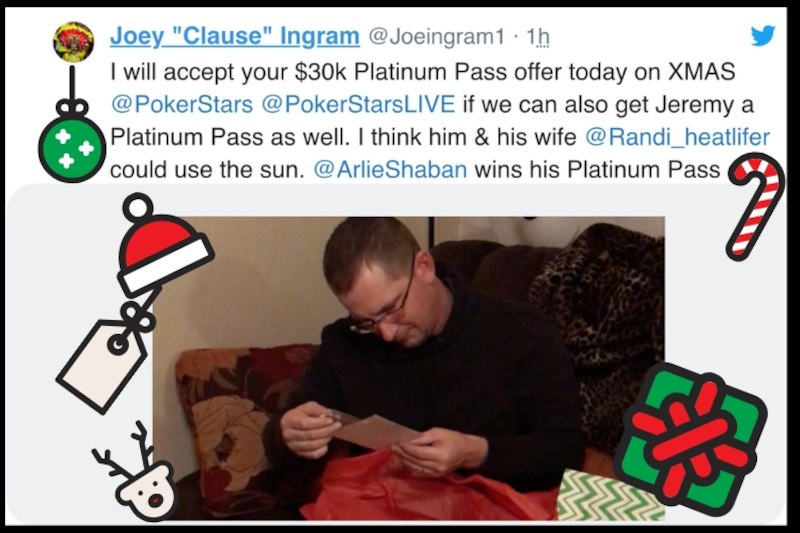 Back to Top