In the 2010 WSOP Main Event, Matt Affleck was eliminated in 15th place after getting outdrawn in a huge pot versus eventual champion Jonathan Duhamel. Yet it wasn't the hand itself that has gone down in poker history, but the aftermath of the hand as expertly told by PokerStars Blog writer Howard Swains. Sit back and relive this riveting tale of poker heartbreak and despair before Swains adds further context to one of the more memorable stories in PokerStars Blog history…
The long, lonely walk of Matt Affleck
Story by Howard Swains – Photos by Joe Giron
July 17, 2010
At a conservative estimation, more than two million poker hands have been dealt in this World Series Main Event. But if any single hand is likely to be remembered long into the future of poker, it is the one that has just eliminated Matt Affleck in 15th place.
It wasn't necessarily what happened with the cards – the outdraw was no less horrific than thousands that occur every hour. But the reaction from Affleck, both the very minute an 8♦ rivered a straight for Johnathan Duhamel, and then for the next 20 minutes as Affleck attempted to begin the rest of his life, was without comparison in modern poker memory.
Here's what happened, from the very start:
At the table
Affleck and Duhamel were involved in a pot worth 42 million tournament chips, an amount large enough to carry to November's final table with serious expectations of becoming World Champion. Affleck, 23, had pocket aces. Duhamel, 22, had pocket jacks. They had seen a flop of 10♦ 9♣ 7♥ , and then a turn of Q♦ . And then all of Affleck's chips found their way into the middle.
Duhamel took five minutes before calling the bet. Affleck was leading but Duhamel could hit any king, any jack or any eight to win, eliminating Affleck. He hit the 8♦ .
As the eight-deep crowd gasped and roared, Affleck leant forward, slid his hat forward over his eyes, and rested his head on the arm-rest around the table. His body started to shake like a man beginning to weep. He held his head there for longer than any player I've ever seen. When he lifted it, he held his cap over his reddened cheeks. He wanted no one to see the tears in his eyes, but no one could look anywhere else.
Matt Affleck is reduced to tears after his elimination from the 2010 World Series Main Event
He shook hands with his opponents, he took his off his microphone, he didn't pause to watch his chip stacks, meticulously arranged and scrupulously earned through eight days, slid in the direction of Duhamel.
Matt Affleck shakes Jonathan Duhamel's hand
In the corridor
As play resumed – it always does that – there was still the nervous chattering that follows any kind of monumental happening in any sporting pursuit. Folks discussed the hand, adding their own inexpert views to what they had seen, then discussed what they expected to happen in the future. "They sure take their time to make a decision these guys," said one man on the rail. "I mean, man, either do it or don't. Come on."
Affleck was not around to hear it. In the long corridor outside the Amazon Room, he stood beside three friends, all of them silent and frozen. He was in the very middle of the hall, like a statue. A few strays from the MMA fight in the neighbouring Pavilion Room ambled past. A janitor swept a plastic cup into his trash-can.
One poker spectator had pursued Affleck all the way out into the hall and he sheepishly approached him with a baseball cap and a marker pen, proffering it nervously. Affleck took the pen, scribbled on the white baseball cap, and sent the man on his way. No words were exchanged.
Affleck then blew out his cheeks, still red and still moist, and wandered along the hall towards the main Rio Casino. He stopped when he caught sight of one of the monitors that showed the chip counts to spectators. It still had his name on it, fifth in chips, and heading to the November Nine. It was wrong, plain wrong. Affleck pulled his cap over his eyes again.
Off he went once more. He walked slowly, feet splayed outward, his "Griffey 24" Seattle Mariners jersey disappearing into the distance. He was still crying. His friends followed, but they gave him a five yard start. Affleck was alone; there was nothing a fist pump or a handshake could do.
Outside by the taxi rank
When he reached the end of the corridor, Affleck left the building and stood by the stairs leading to the taxi rank. He walked through a few smokers to a railing and lent over it, two elbows propping him there, as though he was about to be sick. He stood for two minutes before one of his friends walked over and patted him twice on the shoulder. They said nothing.
Affleck moved away and propped on another stretch of railing. His friend removed his jacket but stayed where he was. A group of four MMA fans smoked and talked about a car wreck one of them had recently been in. The petty minutiae of their impending court case, peppered by expletives, was out of earshot. Affleck instead stared into the shrubbery beneath the suites of the Palazzo Towers. That's usually where the November Nine stay when they return to Vegas to play the final table.
A plane flew into McCarran airport and Affleck watched it briefly. Then his friend moved over again and patted his back once more. Aflleck turned around and this time the buddies talked. Then they walked together back into the hall.
Back in the hall
As he held the door open for a lady to leave the corridor, the woman recognised Affleck and wanted to talk. "Congratulations," she said. "Congratulations on getting that far. We've been watching you for days."
Affleck thanked her but wandered away. She shouted after him: "Congratulations on getting that far."
He wandered back in the direction of the Amazon Room, pausing again to sign another baseball cap with a Sharpie and accepting congratulations. Three other poker supporters approached him, including Greg Mueller. They exchanged handshakes, but Affleck did not tarry. He seemed to be heading to the payouts room, but once again got only as far as the rotunda, and turned 180 degrees again.
Once more, with his silent three-man entourage lagging five paces behind, Affleck headed away. It was now the third time he had walked this corridor in as many minutes, like a polar bear in a zoo, having lost all sense of purpose. This time he turned past the shuttered merchandise stand and past the photos of previous Main Event champions. Six cabinets displayed World Series bracelets. Affleck did not look.
He then drifted into the corridor that led to the bedlam of the main casino. About a week ago, a banner hanged there that read "Thank You For Visiting the World Series of Poker. Don't Forget the Main Event."
Matt Affleck will never forget the 2010 Main Event. And the Main Event should never forget Matt Affleck.
***
The writer's perspective
Howard Swains has seen and written a lot in the nearly eight years that have passed since this story, but he still had some fascinating insights when asked to recall that lonely corridor in the Rio…
PokerStars Blog: Was this the first time you'd followed a busted player out of the traditional tournament area?
Howard Swains: This was the first time, and I actually don't think I've done it since either. Busting any tournament is a weird and lonely moment for any player, and I suspect there must be plenty of people who have reacted in an even more extreme way than Affleck. But I'd never really thought of going after them.
PokerStars Blog: What was it about Matt Affleck that made you think the story would continue away from the hand?
Howard Swains: I'd be lying if I claimed I just *knew* something was going to happen. A lot of this came about purely by chance I think. I remember being among the railbirds surrounding the outer table and lots of people were craning their necks trying to see what was going on. I'm not totally certain any of us had a great view of the cards or anything, but I definitely remember seeing Affleck's expression of utter horror, and then seeing him start crying.
PokerStars Blog: Did you ever feel conflicted at reporting on what was a private moment for Matt?
Howard Swains: A little bit, maybe, but I was also sending text messages to photographer Joe Giron asking him to come out and take some pictures, so I guess I wasn't *that* conflicted. (Joe didn't see the texts until later.) I guess it's also worth noting that I didn't know I was going to be writing anything when I first began my sinister stalking exercise, so I didn't really consider I might be intruding. Then when I actually realised I should write something, I knew it wasn't going to be a hatchet job. I tried to make it a sensitive response.
PokerStars Blog: Was there any temptation to try and speak with him in the hallway?
Howard Swains: Yes, absolutely, and I'm still not sure whether I should have done actually. I seem to remember I was really tempted to talk to him, especially when he was standing outside. On balance I think he probably should have been given a voice. But there wasn't a whole lot of strategising that went into it, really. Like many blog posts, it was essentially put together on the fly.
***
What happened to Matt Affleck?
Happily for Matt Affleck, his poker story didn't end that day in the Rio. The American has gone on to amass a laundry list of cashes – the majority of them in his home country – with the highlight being a $264,000 victory in the 2015 Coco Poker Open.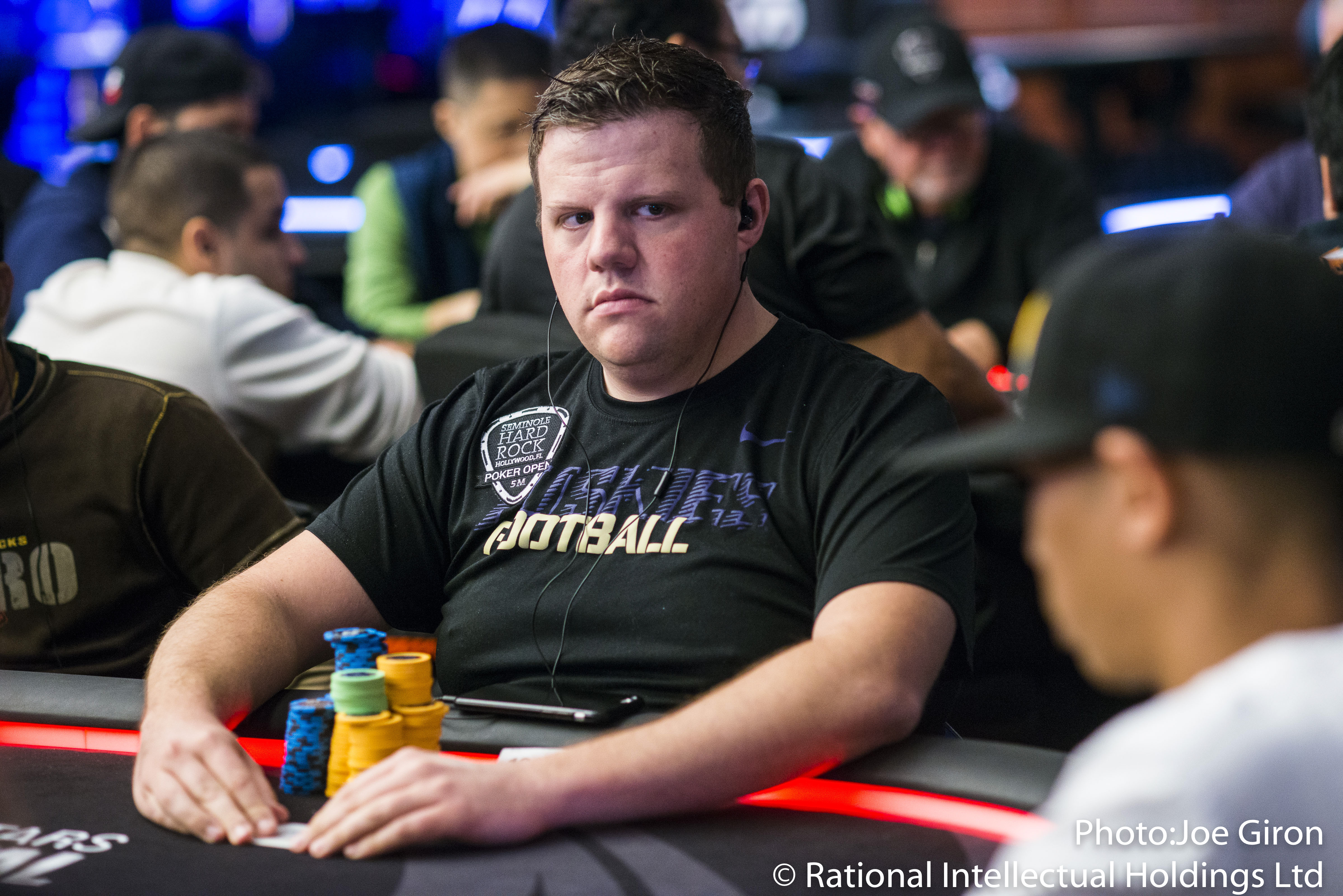 Matt Affleck playing in a 2016 New Jersey event
However, Affleck's long wait for a first WSOP bracelet continues. He came close in 2016, finishing third in a $1,500 No Limit Hold'em event, and made five cashes in 2017. Perhaps further Main Event glory waits in the years to come.
Back to Top